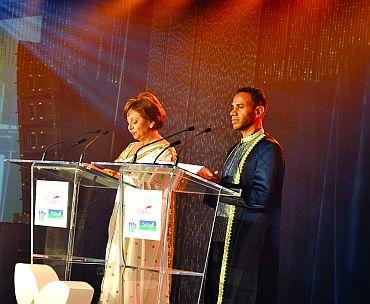 Over 1,200 guests attended the Trillium annual Diwali fundraiser at the Pearson Convention Centre in Ontario, Canada on October 19.


"I sold 42 corporate tables, unlike last year when we sold 30, with a price tag of $6,000 per table (for 10 persons)," said Rupi Tandon, co-chair of the organising committee.

"It's a privilege and honor for me to raise money for this hospital," she added.


"South Asians are now more giving, especially during Diwali. Our younger generation may still have some hesitation, because of the commitments, but the older generation is more giving."


Tandon's husband Inder Sharma, who donated $100,000 to the hospital, said, "I have been associated with the Trillium hospital for over 40 years. I have been donating money to this hospital for a long time."


The Diwali fundraiser raised $800,000 this year.


Dr Vir Sennik, orthopedic surgeon, who started the Trillium Diwali dinner 11 years ago, said "I never expected this kind of support when we first launched it.

It is the right cause, Trillium is a first-class facility and it had to know what the South Asian community was all about and the community had to know about Trillium."


Initially they raised $3.5 million for the OM fracture unit. Now the money is dedicated to the endoscopy unit and after reaching the $2 million target, the hospital will designate the Diwali fundraiser to some other unit, explained Sennik.


Michelle DiEmanuele, chief executive officer, Trillium and Credit Valley Hospitals --which are to merge February 1-- stressed on the need for "collaboration with the South Asian community."
Dr Dante Morra, new chief of staff of the two hospitals, said the new facility would have about 1,000 doctors. "Together we will be stronger and more engaging with the community."
Dr Milan Patel, co-chair, Diwali fundraising committee, said, "Our community has a deep and abiding respect for others. We are passionate about the future of healthcare and are committed to doing everything we can to ensure the best possible care for the members of our community."


Nimmi Papneja, co-chair of the Trillium Diwali fundraising committee last year, said, "I have been a volunteer for the Trillium Diwali Gala for the past ten years, when Dr Sennik first started this wonderful event to involve the South Asian community."


Speaking about her experience as co-chair, she said she had the opportunity to approach many potential past and present donors. "I found most people were very generous. Even those who could not contribute were made aware of the importance of their support for our community hospital."