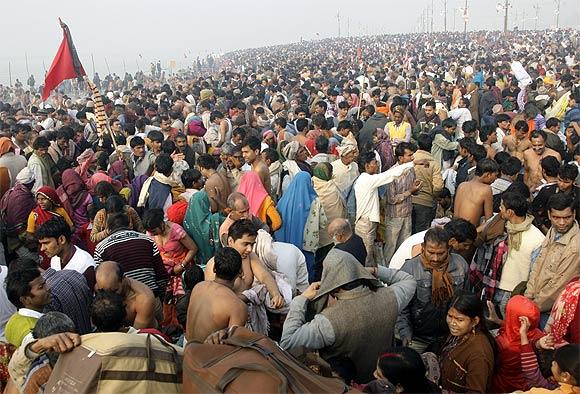 The Uttar Pradesh government's oft-repeated claims about the success of the 2013 Kumbh Mela have fallen flat, with the Comptroller and Auditor General pointing out various failures and pitfalls in the mega event.
Tabled before the state assembly on Tuesday, the CAG report has castigated the UP government for failing to complete much of the work even weeks after the mela was formally inaugurated.
Its contents clearly contradict Chief Minister Akhilesh Yadav government's much publicised self-praise about carrying out a fabulous job on every front at the Mela. Interestingly, the state government not only generously rewarded its officials and showered loud praise on Urban Development Minister Azam Khan who was entrusted with the overall supervision of the entire mela organisation and operation.
The report also flays the earlier Mayawati government, not only for its splurge on her dream memorials and statues, but also for anomalies in the execution of the much talked about Yamuna Expressway connecting Noida and Agra on the fast track.
According to the report, the Akhilesh Yadav government shelled out a paltry Rs 10.57 crore as its share towards the mela which is the largest single human congregation on earth. The amount is described as barely 1 per cent of the central government's allocation of Rs 1,141.63 crore.
As per the report, "The state government was expected to share 30 per cent of the expenditure incurred in organising the Kumbh Mela, but at the end of the day it spent only 1 per cent." The report not only flays the state government for "poor financial management" but has also severely criticised it for inordinate delays in execution of much of the infrastructure work including sub-standard roads, poor water supply and drainage systems.
The CAG has raised questions not only on the financial management of the authorities but also that on the basic planning of the mega event. Contrary to the state government's claims about ensuring smooth flow of the mammoth crowds, the CAG has lashed out at the authorities for its failure to bring about the desired coordination between various departments, which often led to chaos.
The stampede which took many lives at the railway station towards the conclusion of the mela was the outcome of such lack of coordination.
The report also condemns the Kumbh Mela administration for not caring to create any additional facilities for waste management which proved to be fare beyond the available waste management infrastructure in Allahabad.

The overall motoring arrangement has also been found well below the mark. "A special committee was constituted for monitoring the quality of the work done, but there is nothing on record to show that this committee even met once," the CAG report points out.