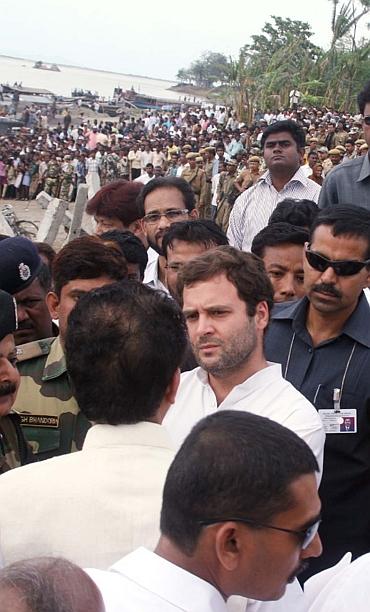 Six more bodies were recovered on Wednesday even as the Border Security Force and the National Disaster Response Force continued operations to trace over 200 people who went missing after their boat capsized in the Brahmaputra river in Dhubri district of Assam on Monday evening.
The BSF is organising a DIG level meeting with Border Guards of Bangladesh on Thursday to facilitate coordination for the operation to trace over the 200 missing people. The area being close to the international border, there is a possibility of bodies being swept towards that country.
A BSF source informed that the meeting would be held in Dhubri district. The district magistrate and superintendent of police of Dhubri district and their counterparts from Kurigram district in Bangladesh will also participate in the meeting.
Congress general secretary Rahul Gandhi accompanied by Assam Chief Minister Tarun Gogoi visited Medortari ghat where the tragedy occurred and spent about 45 minutes talking to the family members of the victims. Meanwhile, thousands others gathered at the spot looking for an opportunity to air their grievances before the Congress leader.
Assam Chief Minister Tarun Gogoi played the role of mediator while Rahul Gandhi tried to strike a rapport with the aggrieved family members, who could not speak Hindi.
Sources informed that the local people apprised Rahul Gandhi of the sorry state of river transport service which is the lifeline in the backward area that hardly has any good all-weather road.
Assam Environment and Forest Minister Rakibul Hussain who has been deputed by the chief minister to oversee the rescue operation and provide aid to victims and their families, informed that Rahul Gandhi took stock of the entire rescue operation besides talking to family members of victims.
Rahul arrived at the spot around 3 pm by chopper from Guwahati Airport where he had arrived around 2.15 pm.


Minister Rakibul Hussain informed that the administration called for formal complaints from the people about those who had gone missing after the tragedy. Confusion continues to prevail over the actual recovery of bodies. While the Assam government claims to have got custody of 23 bodies so far, unofficial sources quoting locals put the recovery at over 45.
Pic: Rahul with Assam Chief Minister Tarun Kumar Gogoi