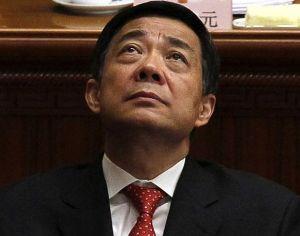 Disgraced Chinese Communist Party leader Bo Xilai sprang a surprise on the first day of his high profile trial on Thursday by defiantly going back on his earlier testimony, calling a witness a "mad dog" and describing his wife's evidence against him as "laughable".
Appearing in public for the first time after he was taken into custody in March last year, Bo, 64, took full advantage of the "open trial" at Jinnan Intermediate Court in eastern China and went back on his earlier testimonies, catching the prosecutors unawares.
Over 100 people were permitted to attended the trial in which five of his relatives 19 journalists were present while the updates on the trial were posted on the court's Twitter-like Chinese microblog Weibo account.
Regarded as the most charismatic of contemporary Chinese leaders, Bo kept his rebel image by denying accepting 1.1 million yuan ($1,80,000) from Tang Xiaolin, general manager of Dalian International Development Co Ltd, when he was chief of Dalian city.
"I had gone against my heart and admitted (accepting bribes from Tang on three occasions) while the Central Disciplinary Commission investigated me," Bo was quoted as saying by the Hong Kong based South China Morning Post.
Looking sullen and rundown, Bo who came to the court wearing an open necked white shirt and tucked between two policemen. "I had no knowledge of these details back then, my brain was blank," he said responding to the presiding judge's query if he had accepted the money.
More interestingly, Bo questioned his wife Gu Kailai's testimony saying that it doesn't suggest he had put money he earned through corrupt means into their shared safe deposit box.
She is also not in the right frame of mind as she is imprisoned serving a suspended death sentence, he said, citing Gu's conviction in the 2011 murder of British businessman Neil Heywood.
Gu had no need to take their shared funds, because she had her own money, which by far exceeded the sums she claimed to have taken from him, he said.
He dismissed Gu's testimony, as read by the prosecutor, calling it "very comical, laughable", state-run CCTV said. Bo's trial is the communist giant's most politically- charged in decades. Two years ago, Bo was seen as a candidate for promotion to the Politburo Standing Committee, the seven-member top decision-making body of the ruling party.