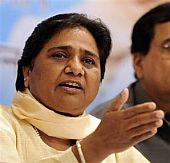 In a significant move, the renaming of Amethi and its elevation as a district has been stayed by the Lucknow bench of Allahabad High Court.
The order came in a Public Interest Litigation moved by Manoj Kumar Rastogi and Ved Prakash Singh, opposing the creation of the new district in the name of ruling Bahujan Samaj Party (BSP) icon Chattrapati Shahuji Maharaj.
The bench comprising Justice Pradeep Kant and Justice Rituraj Awasthi on Wednesday stayed the Mayawati government's notification of July 1, whereby Chattrapati Shahuji Maharaj Nagar district had come into being.
The court took note of an earlier government notification of December 22, 2009, whereby creation of any new district was banned until March 31, 2011.
A traditional political bastion of the Gandhis, Amethi is the parliamentary constituency of Congress General Secretary Rahul Gandhi, whom chief minister Mayawati was apparently keen to spite through her decision.
Sure enough, in an obvious game of one-upmanship, Mayawati intended to impress upon the electorate of Amethi that successive Congress leaders never cared to do what she had done in one stroke for the people of Amethi.
Drawing the attention of the court to the notification, the petitioners sought to point out that neither a new district could have been created nor boundaries of nagar palikas (municipalities), revenue villages, tehsils (administrative divisions), police stations, vikas khands (development sectors) and districts could be changed on or after January 2010 and before March 31, 2011.
"The state government ought to have exercised restraint in issuing the said notification of July 1 in the teeth of notification dated December 22, 2009, issued
by Governor or against the directives of the central government to the state government, in pursuance of which the aforesaid notification has been issued by the Governor," observed the bench.
The bench also observed that creation of a district was a major exercise, which could not be done in haste, overlooking or underestimating the requirement of providing necessary infrastructure and paraphernalia.
Chief Standing Counsel Devendra Kumar Upadhya stated that the government was conscious of notification issued by the Governor. He said that a high-powered committee had considered the creation of the new district.
Upadhya further went on to add that the government had taken necessary precaution to ensure that census did not get affected by creation of the new district. He claimed, "The new district fulfils the entire standard requirements as per an earlier Government Order dated October 20, 1992. The newly created district has a population of 17.21 lakh, covering an area of 3070 sq km, having 5 tehsils, 16 development blocks and 17 police
stations."
The court has posted the matter to come up for hearing in the first week of October.
Significantly, another division bench of the high court comprising Justice Uma Nath Singh and Justice Dr.Satish Chandra had dismissed a petition challenging the creation of new district.