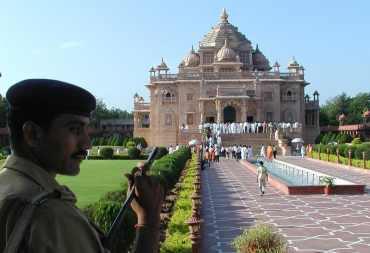 The National Investigation Agency chargesheet points to the involvement of Pakistani operatives in both the cases. Vicky Nanjappa reports

How deep-rooted was the Bangalore assassination plot? According to the chargesheet filed by the National Investigation Agency, terrorists from Pakistan who planned and executed the 2002 Akshardham Temple attack in Gandhinagar (29 devotees were killed and another 79 wounded) guided young 'jihadis' to eliminate several politicians and journalists, a plot that was busted.

On August 29, the crime branch of the Bangalore police had arrested 11 persons and claimed to have foiled their plan to target politicians and mediapersons. More arrests were made in the case in the following days.

The NIA, in its chargesheet, has named 25 accused in the case. The chargesheet gives a detailed account of how the youths were guided by Pakistani handlers to carry out a series of assassinations in Karnataka, Andhra Pradesh and Maharashtra.

There were five handlers who were in touch with the accused. The main meeting was held at Damam in Saudi Arabia, which was attended by a youth named Akram. After having devised the plan, Akram was sent to India. Here a series of coordination meetings were held following which "like-minded 'jihadis" got together and decided to carry out the assassinations.

The plot was masterminded by one Shoaib Ahmed Mirza, according to the NIA chargesheet. The plan was not only to target Hindu leaders and journalists, but also three police officials were also on the hit list.

For the NIA, however, the probe is far from over and they have clearly sought more time for additional investigation. The remaining part of the probe will be two pronged, said investigators.

"We need to gather digital evidence and also seek help of the Interpol to nab at least 12 accused in this case, who are holed up in Saudi Arabia," said an NIA official.
The NIA has already told service providers to get them more details on the emails that were exchanged between the accused. Further, they have also evoked the mutual legal assistance treaty with the United States for more information regarding communication via the Internet.

The NIA is also trying to zero in on those who supplied guns to the accused. The chargesheet said that the prime accused Mirza was given three pistols on the instructions of another accused Zakir Ustaad. However, the NIA has not yet been able to find the person who actually delivered the weapons.

The NIA is also looking at getting a clearer picture on the operation. The ongoing investigations point out that the jihadi youths, who decided to carry out the assassinations were in touch with some operatives in Saudi Arabia, who connected them to the Pakistani handlers.

"Going by the manner in which so many youths came together it appears that the movement was gradually gaining steam. The accused are from Nanded, Hyderabad, Bangalore and Hubli. They had also planned to rope in operatives from Tamil Nadu. This could spill into a larger network and it is important for us to understand the ideology and the network behind this movement," sources in NIA said.

Image: A policeman guards Akshardham temple in Gandhinagar near Ahmedabad. On September 24, 2002, two heavily armed terrorists entered the temple and gunned down 29 people | Photograph: Amit Dave/Reuters