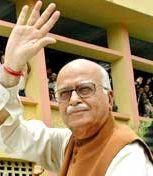 In a rude shock to top Bharatiya Janata Party leaders L K Advani, Arun Jaitley and Uma Bharati, the party leadership chose not to include their names in the list of leaders to address protest rallies.
Party President Nitin Gadkari will hold a public rally in Delhi, while Leader of Opposition in Lok Sabha Sushma Swaraj will address public meetings in Bhopal, where she will demand the resignation of Prime Minister Dr Manmohan Singh for his role in the coal-gate scam.

Ravi Shankar Prasad, deputy leader of Rajya Sabha, announced the list of 50 prominent MP's and party leaders who would be holding nationwide protests. While Gopinath Munde is expected to address a rally in Mumbai, former BJP president M Venkaiah Naidu will lead protest rallies in Hyderabad.

"I will be in Patna while Rajeev Pratap Rudy will be in Gwalior, Vijay Goel will address rallies in Kolkata," Prasad said.

He, however, did not name MP and former cricket captain Navjot Singh Sidhu, who too does not appear on the list. Another prominient BJP leader missing in the list is Uma Bharti.