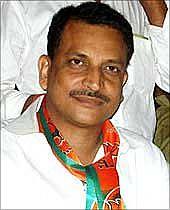 The Bharatiya Janata Party on Friday nominated former party president M Venkaiah Naidu, spokesperson Rajiv Pratap Rudy, vice-president Mukhtar Abbas Naqvi and treasurer Piyush Goyal as its candidates for the forthcoming Rajya Sabha elections.
The party parliamentary board, headed by party president Nitin Gadkari, finalised candidates for Bihar, Karnataka, Uttar Pradesh and Maharashtra for next month's Rajya Sabha polls.
Naidu (Karnataka) will be elected to the Upper House for the third time while Rudy will get his first fullterm.
The latter was elected to the Rajya Sabha in a by-election nearly two years ago.

Naqvi, a prominent Muslim face in BJP, has got the nomination from Uttar Pradesh for a second term in the Upper House.
BJP treasurer Piyush Goyal will get into the Rajya Sabha from Maharashtra while former Chhattisgarh BJP president and Scheduled Tribe leader Nand Kumar Sai has got the nomination from his state.
Other candidates include A Manjunath (Karnataka), who is party spokesperson from the state and a former MP.
Since Gadkari has not yet formed a central election committee, the Parliamentary Board met to finalise the candidates.
Vidhan Parishad candidates for various states were also finalized on Friday.
BJP UP unit spokesperson Hriday Narain Dixit will be the candidate for the Upper House in his state while Shobhatai Phadnavis (former MLA and minister) and Dhananjay Munde (former state Yuva Morcha chief) have been selected from Maharashtra.
Harendra Pratap and Kiran Ghai, who was recently made party national vice-president, will be BJP candidates for Bihar Legislative Council.
In the Maharashtra state council, Suhas Farande has been nominated to the graduate seat.
The next meeting of the BJP parliamentary board will be held on June 4 to select the remaining candidates for Rajya Sabha and state legislative councils.
Image: BJP spokesperson Rajiv Pratap Rudy has been nominated from Bihar