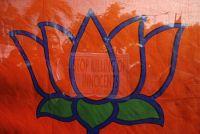 Gujarat Chief Minister Narendra Modi's campaign against the Centre's meat exports policy is likely to be replicated by senior Bharatiya Janata Party leaders in western Uttar Pradesh to increase the party's vote share in the Lok Sabha elections.
During the assembly election campaign in Gujarat, Modi had alleged that while the state was busy in green and white revolution, the United Progressive Alliance was promoting 'pink revolution' in the country, which he termed an anti-farmer policy.
Senior BJP leaders from UP elaborated that they had asked Modi to come to areas of western UP and talk about pink revolution, which could have an effect on more than 20 Lok Sabha constituencies.
Some of the constituencies the BJP is planning to target are Agra, Mathura, Hathras, Aligarh, Meerut, Muzaffarnagar, Amroha, Saharanpur, Rampur, Badaun, and Pilibhit.
Members of the BJP said earlier they were unaware of Modi's campaign. They came to know about it during a visit to a public meeting in Gujarat where Modi leveled allegations against the meat export policy of the Union government.
"We have spoken to Modi about visiting western UP and inform people about pink revolution. This will act as an election campaign in the state and benefit BJP to win more seats. We have also spoken to the central leaders about the plan and final plan on the visit of Modi will be made by the party leadership," said a senior leader of BJP.
The party is desperately trying to improve its performance in UP where it currently has only 10 out of the 80 Lok Sabha seats. BJP had earlier seen better days in the state, especially after the 1998 Lok Sabha elections when it won 46 seats.
Senior leaders admit the party's performance in the state has deteriorated because just after the 1998 elections, it managed to get only 22 seats in the 1999 general elections.
Leaders also said BJP had a tie-up with Civil Aviation Minister Ajit Singh's Rashtriya Lok Dal during the 2009 Lok Sabha elections, but later Singh joined the Congress-led UPA and became a Union minister.
BJP leaders said that this time, the party is likely to contest Lok Sabha election in UP without forming any alliance.
Interestingly, the parent organisation of BJP, Rashtriya Swayamsevak Sangh and its wing Vishwa Hindu Parishad have already launched a nationwide campaign against cow slaughter, hoping to reap benefits during the election campaigns.