If you find dead bodies being kicked around by cops or a minister advocating caning of school-going students, or Dalits being denied entry into Hindu temples, you know that all this can happen only in India's most populous state -- Uttar Pradesh. Sharat Pradhan reports.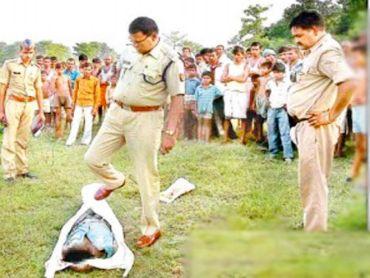 The promotion of 'jungle-laws' like enforcing a ban on use of cell-phones by young women and barring them from visiting market places has given Uttar Pradesh the pseudonym of 'Ulta Pradesh'.
The past three days have been replete with incidents like these from across different parts of the state. The state, which is ruled by the country's youngest Chief Minister Akhilesh Yadav, appears shy of ordering any demonstrative action against the culprits.
On Tuesday, Jaiprakash Singh Yadav, a deputy superintendent of police, was caught on camera using his boot to identify an unclaimed dead body in Sitapur district, barely 90 km from the state capital. The unclaimed body was of a young man with multiple knife wounds abandoned in a field.
While the people sitting at the helm of affairs in the government chose to maintain a studied silence on the issue, district Superintendent of Police Deepak Kumar gave a wishy-washy reply to queries by the media after some TV channels showed stills of the cop's disposition towards the dead body.
"I have ordered an inquiry into the incident. And with a view to ensuring transparency, I have divested the deputy superintendent of police of his charge and attached him to the district police office," Kumar told mediapersons.
Speculation is now rife that the administration is looking for a scapegoat as the culprit's proximity to a powerful minister in the Akhilesh Yadav cabinet is an open secret.
Meanwhile, two other similar incidents came to light in Gonda and Basti where unclaimed bodies were being dragged like dead cattle and abandoned in bushes in a secluded corner to let vultures, jackals, dogs and other animals feast on them. The replies of local police officials were no different. In both cases, top district officials admitted that a sum of Rs 1,500 was released from the state treasury for the disposal of unclaimed bodies. Who pockets the cash is anybody's guess.
Caning in schools
In yet another bizarre incident,  UP's Basic Education Minister Ram Govind Chaudhary announced proudly at a gathering of teachers in Lucknow that he was quite inclined to re-introduce the old practice of caning of school-children.
A  firm believer in the old saying 'spare the rod and spoil the child', the minister did not mince words in declaring, "Hamare zamane mein ek sawal ghalat pe 5 cane parte the aur do sawal ghalat hone pe 10 cane. Isliye guru marta tha……jaanta tha ki hamara ladka itna tez hoga ki hamare school kee garima barhayega  (in our days, we used to get five canes for getting one question wrong and 10 canes for answering two questions wrong. The teacher used to thrash students to make them more alert and intelligent with a view to raising the prestige of the school)."
The minister found it ridiculous to abide by the central government's latest policy on clamping a complete ban of caning or any kind of physical punishment. He asserted, "Ab Kendra sarkar ne bana diya kya ajab kanoon ki ladke ko zor se daant bhi nahin sakte.. Ye students ko bigaadne ka kaam Kendra sarkar kar rahii hain  (now the central government has made this new rule which disallows a teacher from even scolding a student. The central government will eventually end up only spoiling the children)."
Sweepers barred from entering temple
Exactly 82 years after Babasaheb Bhimrao Ambedkar was denied entry into Nasik's Kalaram Temple in 1930, a local upper caste panchayat issued a diktat banning entry of sweepers (dalits) into the local Hindu temple in Sahsa village of Bariellly district. The doors of the temple have been locked and a guard is in place 24x7 to disallow the entry of any member of the 'valmiki' (sweeper community).
Asked to explain the reason for such an arbitrary diktat, Ram Singh, a prominent Thakur and member of the local panchayat claimed, "Their entry had to be banned not because of their caste, but because they defile the holy place by coming in without taking a bath and even in a drunken state."
Singh's argument was that since 'valmikis' were engaged in carrying night soil and sweeping garbage, and observed no hygiene, they were unfit to be allowed entry into the temple. "They eat meat and consume liquor," he pointed out, while adding, "And let me tell you, this temple has been there for decades, but never before have they shown such keenness to gain entry into the temple as they are doing now."
Flatly denying the charge, Badlu, a local dalit told mediapersons, "It is all false accusation simply to disallow us because we are dalits; after all we have enough sense not to go drunk in a temple," he argues.
Asked to comment, local SDM Nandita Srivastava claimed, "We have ordered a probe into the incident. Meanwhile, we are keeping a watch to prevent any clash between the two groups."
Photograph: Deputy Superintendent of Police Jaiprakash Singh Yadav using his boot to identify an unclaimed dead body in Sitapur district in Uttar Pradesh.