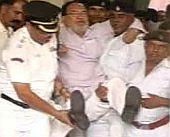 Bihar assembly Speaker Udai Narain Choudhry suspended 67 Members of Legislative Assembly of the opposition for the rest of the monsoon session as chaos prevailed in the House for the second day on Wednesday during which a slipper was flung at him.
The suspension of the MLAs on the ground of unruly behaviour came shortly after around 80 opposition members spent the night in the well of the two houses of the state legislature.
The Bihar legislators apparently took a cue from their opposition counterparts in Karnataka who spent nights in the assembly during their five-day dharna in connection with the illegal mining scam.
State Rashtriya Janata Dal President Abdul Bari Siddiqui and RJD deputy leader in the assembly Shakeel Ahmed Khan were among those suspended.
Unruly scenes were witnessed in both Houses of Bihar Legislature on Tuesday as opposition members overturned desks and chairs, broke microphones and virtually came to blows with ruling alliance MLAs over the debate on the Comptroller and Auditor General of India report which alleged financial irregularities in the state.
The suspension of MLAs, who were sitting on a dharna since Tuesday demanding the resignation of Chief Minister Nitish Kumar in the wake of the CAG report, came after they disobeyed the directive of the speaker to let the House function.
A resolution for the suspension of the MLAs was brought in the House by state parliamentary affairs in-charge Brijendra Prasad Yadav, which was passed by voice vote amid protests by opposition members.
The MLAs were marshalled out of the house by the watch and ward staff.
As the watch and ward staff lifted RJD MLA Bablu Dev, his colleagues rushed to his rescue. In the melee, a slipper was thrown towards the Speaker's podium.
It was not immediately known who had flung the footwear, which, however, did not hit the speaker.
Later, the speaker ordered that all MLAs protesting in the well of the House be marshalled out of the House.
The opposition MLAs and members of legislative council said they would continue their dharna in both the Houses till their demand is met.
"We will not lift the agitation till this corrupt government resigns," RJD deputy leader in the assembly Shakeel Ahmad Khan said.
He alleged that the agitating members in the two Houses were not provided food in the night and breakfast this morning.
"It reflects that the Chief Minister Nitish Kumar has lost his mental balance following his involvement in the scandal and is desperately trying to gag the opposition", Khan alleged.
Council Chairman T K Jha had suspended 14 opposition MLCs for the day following unruly scenes in the House on Tuesday.