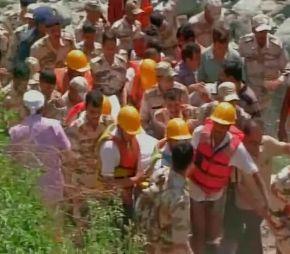 The bodies of two more students, out of the 24 missing, which were traced on Thursday in Beas river in Himachal Pradesh, will be flown to the city on Friday.
The students whose bodies were found on Thursday have been identified as T Upendra from Khammam district and G Arvind Kumar, a resident of Vanasthalipuram area, an official release from Telangana government said.
So far, out of the 24 missing students, bodies of eight of them were recovered and rescue operations are in full swing to trace the remaining bodies. Necessary arrangements are in place for transporting the bodies to the respective district/places, the release said.
Twenty four out of the 48 students of the VNR Vijyana Jyothi Institute of Engineering here, who had gone on a study tour on June 3, were swept away in the swirling waters of the Beas river while taking photographs on Sunday.
Bodies of six students brought to the city were handed over to their parents and kin. "Due to bad weather in Delhi, the bodies are being brought by road from the spot of the incident after which they will be brought to Hyderabad by Air India flight on Friday morning," it said.
Additional Director General of Police Rajiv Trivedi has also been deputed to coordinate the ongoing relief works. Telangana Home Minister Nayani Narasimha Reddy is camping in Mandi along with parents of missing children.
A team of senior government officials along with a police team from Cyberabad Police Commissionerate was already in Himachal Pradesh supervising the relief works.
Meanwhile, a candle light vigil was taken out at the college premises in Bachupally area here in which college students and faculty participated.
Image: Divers and rescue personnel rescued two bodies on Thursday from the Beas river. Photograph: ANI's Twitter page.