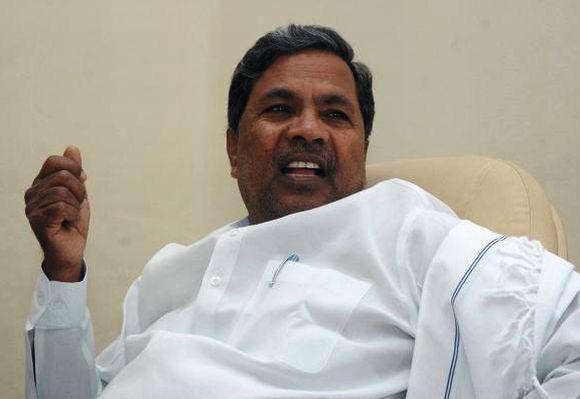 Over a month at the helm, Karnataka Chief Minister Siddaramaiah on Tuesday said he was working towards "visible changes" in administration and asked his ministers to be honest enough to have the "moral courage."
"Like charity begins at home. I have told my ministers that they will have the moral courage only if they are honest and only then can their words carry weight with the bureaucrats," Siddaramaiah told journalists in Bengaluru1.
He said he has given strict instructions that transfers, one of the root causes of corruption, should be transparent.
"Some changes are happening," Siddaramaiah, who took over as chief minister on June 8 after the Congress's spectacular victory in the May five Assembly polls, said.
"We have promised the people that we will provide a clean and corruption free administration. We will try very seriously to give a sincere and clean government," said Siddaramaiah, whose party had used graft as the main electoral plank to unseat the Bharatiya Janata Party government.
He said he was aware that steps taken by government on the corruption issue would have a bearing on Lok Sabha polls.
On the Lokayukta report on illegal mining submitted by its former head Santosh Hegde, he said government would act on its recommendation to recover money from officials and politicians who caused the revenue loss after the Central Bureau of Investigation probing the issue submits its report.
Central Empowered Committee constituted by the Supreme Court was also examining the illegal mining issue, he said.
To a query, Siddaramaiah said government would give its go-ahead for further action against officials, including from the Indian Administrative Service and Indian Police Service cadres, according to law on the basis of the recommendations of the state Lokayukta.
"There are some 130 cases. But in some cases, action may not be required."
Siddarmaiah, who has the credit of presenting seven state budgets and is acknowledged for adhering to fiscal discipline, said the budget was most likely to be presented on July 12.
He said his priorities would be agriculture, irrigation, rural development, education, health and power. About the difficult challenge of resource mobilisation that lies ahead for him considering the plethora of populist electoral promises made by the Congress, he said they would be fulfilled without any compromise during his five-year tenure.
On the festering Cauvery row with Tamil Nadu, Siddaramaiah said the issue was before the Supreme Court as well as the Cauvery Water Disputes Tribunal. "It is a legal battle."
Karnataka government had challenged the final Cauvery award in the Supreme Court and also filed a review petition before the tribunal."We will pursue both."
He said issues such as what constitutes a normal or distress year needed to be thrashed out and dubbed as "most unscientific" the monthly quota for water release to Tamil Nadu.
"When there is no water, we cannot give it," he said, adding, "we hope for good monsoon this year and if there is good rainfall, there will be no problem."
On cabinet expansion, he said, "not now." Siddaramaiah had inducted 28 ministers in one go on May 18 and added one more a week later, leaving four ministerial vacancies.