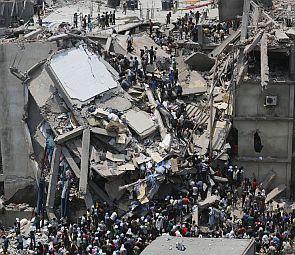 Two factory owners were arrested on Saturday over a Bangladeshi building collapse disaster, as the death toll in the tragedy rose to 336, with rescuers racing against time to save people trapped under the mangled pile of metal and concrete.
Rana Plaza, the eight-storey commercial building that collapsed on Wednesday, housed five garment units supplying Western clothes retailers, a branch of a private bank and about 300 shops.

"Till now 336 bodies have been pulled out while 2415 people have been rescued alive," a control room official said.
Locals said around 3,500 workers, mostly women, of the garment factories were working when the tragedy struck.

Mahbubur Rahman Tapas and Bazlul Samad Adnan, owners of New Weave Bottoms and New Weave Style, respectively, turned themselves in at the Bangladesh Garment Manufacturers' and Exporters' Association (BGMEA) Bhaban early morning.

The owner of the building was still on the run.

Prime Minister Sheikh Hasina had earlier in the day ordered the arrest and prosecution of the suspected culprits, including the owner of the building.

"We had urged them to surrender. After they appeared here (BGMEA Bhaban), the Detective Branch of police arrested them at around 12:30am and took them away," BGMEA President Mohammad Atiqul Islam was quoted by BD News as saying.

Deputy Inspector General (DIG) of police (Dhaka range) Mohammad Nuruzzaman confirmed that the detectives had arrested the duo.
Police are looking for two other owners of the factories housed in the collapsed building. All the five factories had allegedly forced their employees to work on Wednesday even though the multi-storeyed building had developed big cracks.

Two Savar Municipality engineers have also been detained in a case filed over the collapse of Rana Plaza, police said.

Fifteen more people were pulled out alive from beneath the rubble of the building in Savar on Saturday morning.
Meanwhile, thousands of garment factory workers in different parts of the capital took to the streets to protest the deaths in Savar and vandalised several vehicles including buses and cars at Shewrapara.

Even though 72 hours had passed, rescue workers were not using any heavy equipment at the site as there were more people still alive under the debris of the collapsed building.

"We will start using heavy equipment (cranes and bulldozers) after rescuing the last of the survivors," Army Genral Hassan Sarwardy told media persons here.

Rescuers found about 50 people alive on Friday at the most vulnerable backside of the collapsed structure where they penetrated with manual drill machines and rod cutters and retrieved 20 of them in critical conditions.
Ambulances kept outside carried them quickly to different facilities, including a nearby combined military hospital, as Red Crescent and ordinary volunteers joined hands with rescuers in pulling them out.
A fire service official said on Friday that two babies were miraculously born under the debris as their pregnant mothers were trapped under the ruins but they were rescued alive along with their newborn babies.

Prime Minister Sheikh Hasina has promised to expose to justice the fugitive owners of the building and the five garment factories housed there