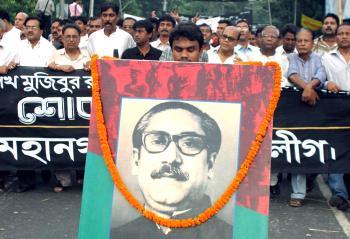 Bangladesh on Thursday hanged the five ex-Army officers, convicted for assassinating the country's founder Sheikh Mujibur Rahman, almost three decades after he was killed in a military coup.
The five death row convicts were hanged past midnight (local time), hours after the Supreme Court rejected their review plea, jail officials said.
The process to execute the assassins of Sheikh Mujib, the father of Prime Minister Sheikh Hasina, began one minute past midnight and ended in 40 minutes time, they said.
Earlier, 61 close relatives of the five condemned men met them for the last time and the son of one of the convicts was brought from suburban Kashimpur Central Jail where he himself was detained to see his father.
The relatives said jail officials had asked them on telephone to come to Dhaka Central Jail immediately to meet the death row convicts before their execution.
The developments came within hours after the Appellate Division of the apex court pronouncing its last verdict rejecting the five convicts' petitions seeking a review of their death penalties, exhausting their last legal option.
Law Minister Shafique Ahmed had said after the verdict that the execution might take place any time by January 31.
The five convicts who were hanged after a trial that dragged on for 13 years are sacked lieutenant colonels Syed Faruq Rahman, Sultan Shariar Rashid Khan, Mohiuddin Ahmed (artillery) and AKM Mohiuddin (lancer) and sacked major Bazlul Huda.
Bangabandhu was killed along with along with his wife and three sons in the August 15, 1975 putsch.
Jail officials said Dhaka's district magistrate and deputy commissioner Zillar Rahman, civil surgeon Dr Mushfiqur Rahman and additional district magistrate Avijit Sarkar entered the jail before midnight along with Inspector General of Prisons Brigadier GeneralAshraful Islam as their presence were required during the hanging.
They said top home ministry bureaucrat or home secretary Abdus Sobhan Sikdar and Dhaka's police commissioner AKM Shahidul Haque also came to the jail just ahead of midnight. Elite anti-crime Rapid Action Battalion (RAB) troops, armed police battalion and plainclothesmen took positions around the jail complex reinforcing the regular police.
Witnesses said a police van reached the jail gate carrying five wooden coffins while another private van came to the scene with two wooden bedsteads which were likely to be used to for ablution of the bodies after the execution.
Earlier in the day, a four-member bench of the appellate division headed by chief justice Mohammad Tafazzul Islam pronounced the verdict after three days of hearing for five of the 12 convicted ex-military officers, who were in prison.
A total of 28 people, including domestic staff, were killed when a group of junior army officers stormed Bangabandhu's private residence in a pre-dawn swoop.
The trial had started only when Hasina came to power in 1996 after 21 years of political wilderness and scrapped an indemnity law which was enacted by the post-1975 government to protect the assassins.
The original trial court in 1998 had found 15 ex-army officers guilty and sentenced them to death but the High Court later acquitted three of them.
Of the remaining 12, five are now in jail, six are in hiding and one already have died in Zimbabwe.
Image: Supporters Awami league march with a portrait of the Bangladesh Independence Leader Sheikh Mujibur Rahman in Dhaka
Photograph: Reuters