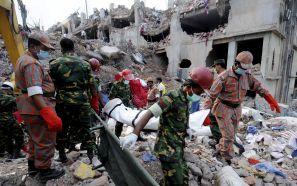 The death toll in Bangladesh's worst industrial disaster rose sharply to 715 as rescuers pulled out 36 more decomposed bodies today from the debris of the ill-fated eight-storey building that collapsed last month.
Officials at the makeshift army control room here said the death toll from the deadly building collapse soared to 715 on the 14th day into the disaster.
The number of people rescued alive were 2,437, they said.
The officials, according to local media, said they still expect more bodies from the debris of the illegally constructed RanaPlaza building as many have remained missing.
The building in Savar near the capital Dhaka that housed five garment factories collapsed on April 24. It is yet to be clear how many people were there on that fateful day.
Police have charged the building owner Sohel Rana and five factory owners with causing deaths due to negligence and violating construction laws, charges punishable by a maximum seven years in jail.
According to police, the building owner illegally added three floors and allowed the factories to install generators.
Image: Rescue workers carry the remains of a garment worker retrieved from the rubble of the collapsed Rana Plaza building near Dhaka
Photograph: Reuters