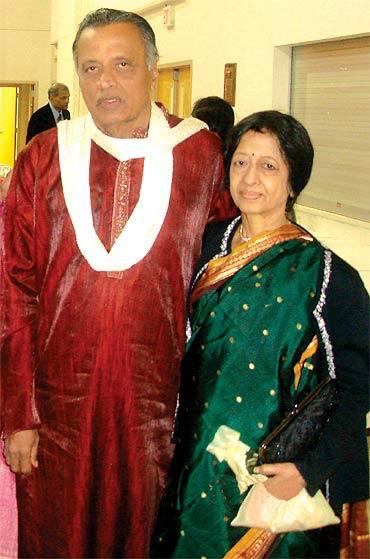 Tabla maestro Ustad Zakir Hussain will join the Indian-American community in Austin and leading Texas lawmakers March 6 to honor Arunachala 'Raj' Nagarajan for his nearly four-decade-old commitment to Indian classical music in the United States.
The Masters of Percussion Concert to be presented by Hussain at the Paramount Theater in Austin, where the two-time Grammy winner will perform with 10 other instrumental virtuosos, will celebrate Nagarajan's lifelong commitment to Carnatic music. The concert is expected to be a sold-out affair with over 1,500 people attending. Hussain will present Nagarajan with a special lifetime achievement award.
The list of the attendees reads like a who's who of the members of the state administration. It will include United States Senators John Cornyn and Kay Bailey Hutchison, Governor Rick Perry and Lieutenant Governor David Deuherst.
Nagarajan founded the Indian Fine Arts over 15 years ago in Austin, but his dedication and passion to bring Carnatic music to the US goes back to more than 35 years ago, when in Poughkeepsie, New York at Vassar College, students and music lovers from the local community were treated to their first taste of Indian classical music by Emany Sankar Sastry and Trichy Sankaran, thanks to Nagarajan who organized it.
From a young age, Nagarajan had a deep passion and love for Carnatic music and on many occasions his father would berate him for not studying and for listening constantly to this music. Although Nagarajan never played music, his devotion to the Indian classical music art form only grew stronger with time, as did his understanding and appreciation of the music of which he became an expert.
The Chennai-born Nagarajan earned degrees in physics from Madras University and went on to get a top job as a scientific officer in the Indian Atomic Energy Commission in Mumbai. While working there, he received a full scholarship for a doctoral program in physics at Carnegie Mellon University in Pittsburgh, Pennsylvania and in the early 1960s with $8 in his pocket (then worth Rs 40 rupees) he set sail for 22 days before he reached America.
At Carnegie Mellon, he began his work as an organizer of Indian cultural events when as president of the Indian Association he put together several of these events which exposed the mainstream community to Indian music and dance for the first time.
He also played a key role in the annual international folk festival, where for the first time Carnatic music was introduced to Americans. In the late 1960s, he returned to Chennai to marry Janaki Chinnaswami, who not only had a masters in philosophy, but was a top tennis player with several trophies to her credit.
She grew up playing in the same circles as the Amritraj brothers. They returned to the US and settled in Poughkeepsie where Nagarajan got a job as an engineer with IBM. Busy as they were, the couple's passion for Carnatic music could not be suppressed and every weekend they would host Indian musical artists, popularizing Indian music and dance in the Hudson Valley.
Nagarajan created the Indian Music Circle, a small group of Indians in Poughkeepsie, and this circle in conjunction with Vassar College organized lectures, demonstrations on Indian music and regularly featured visiting Indian artists and musicians. He helped found and then became director in the Mid Hudson Arts and Cultural Commission to foster greater understanding and appreciation of Indian culture. He was also instrumental in helping to establish the first Hindu temple in the area, the Hindu Samaj in Poughkeepsie.
In 1975, he formed an alliance with Vassar College obtaining the free use of the university's halls and resources in exchange for helping create an international music class for students.
Thus Indian music concerts — both from the north and south of India — became an annual feature at Vassar. During this time, the group formed by Nagarajan called GUHA (Greater Understanding of Higher Arts) Enterprises hosted several major Indian artists like T V Sankaranarayanan, A K C Natarjajan, T N Ramani, Nedunnuri, Balamurali Krishna, M S Subbulakshmi and other luminaries in the field of Carnatic and Hindustani music. To this day, many such artists address him as Poughkeepsie Nagarajan.
In 1995, he had retired from IBM, but not from his passion. He formed India Fine Arts with a dedicated group of Indian professionals in the Austin and greater Austin metropolitan area. The organization has organized and/or sponsored over 100 music and dance concerts at different campuses, featuring both Carnatic and Hindustani music.
Musical heavyweights like Hariharan, Grammy winner Vishwa Mohan Bhatt and Aruna Sairam have returned several times to perform at Nagarajan's concerts. He is now referred to fondly not only as Poughkeepsie Nagarajan but also as Austin Nagarajan.
Nagarajan and his wife say they are grateful that "through our passion and hard work and what is purely a labor of love", India Fine Arts, not only have they been able to "sponsor these iconic musical greats from India and introduce their music and culture to the Austin community and the broader mainstream American community, but also importantly provide a sense of culture for our second generation of Indian children here in the US."
They said they would always serve the underserved sections of the community, like the visually impaired and the mentally challenged.
"We believe," Nagarajan said, "it's very important to form relationships with these people who are less fortunate. Because that is very important for us as a community and for our children — that we be part of the mainstream and the greater American community."