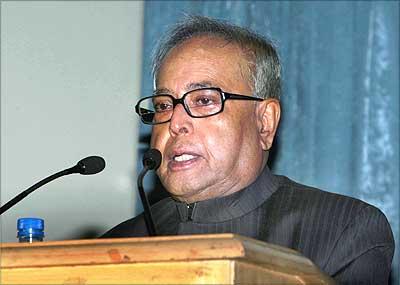 At an impressive function at the Central University of Kerala, President Pranab Mukherjee spoke to the students and academicians.
He expressed regret that Indian universities are absent from the top 200 universities of the world in surveys conducted by reputed agencies.
He said, "I am confident of finding a few Indian institutions amongst the front-ranking universities in one or two years' time."
Speaking at the university's first convocation programme, he said, "The convocation day should be time for introspection about the purpose of education and its role in the development of the individual and the nation."
He tried to inspire its first batch of students. The university is located in Kasaragod in the northern-most part of Kerala. The Malabar region holds great socio-historical significance, said President Mukherjee. Since medieval times Arab and European traders have came here for commerce.
The university which is just five years old has six schools, 600 students and 100 faculty members. President Mukherjee named the university campus as 'Tejaswani Hills'. The university also has a classical language centre. The Malayalam language attained classical status in 2013.
President Mukherjee reminded the first batch of the students of Swami Vivekananda's beliefs, "Do you feel for others? If you do, you are growing in oneness. If you do not feel for others, you may be the most intellectual giant ever born, but you will be nothing; you are but dry intellect, and you will remain so."
"If students are the future of the nation, it is the teacher who shapes them. I was a teacher before I came into public life. I know how gratifying it is to be a part of this noble profession," he added.