Rajasthan Chief Minister Ashok Gehlot has promised to provide free MRI and CT scan to patients if brought back to power. Shahnawaz Akhtar reports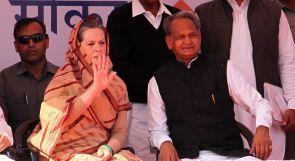 United Progressive Alliance Chairperson Sonia Gandhi on Wednesday alleged that the Bharatiya Janata Party does politics for power and personal gain.
Sonia Gandhi, who was addressing a rally in Sikar district, highlighted the welfare schemes under the leadership of Prime Minister Dr Manmohan Singh and Rajasthan Chief Minister Ashok Gehlot. She talked about the benefits of the Land Acquisition Bill, free education schemes for children, providing 100 and 150 days employment across India and Rajasthan respectively, and giving rights to the tribals.
"To keep the common man and farmers at the centre, the government here has begun many schemes like interest free loan for farmers, commissions for farmers, cooperative finance and a new agricultural university has been established. Free medicine schemes for livestock have also been initiated," she said.
She said all the steps taken by the government are revolutionary but the opposition only makes fun of the work done by the government.
"When they (BJP leaders) will come to seek your vote, ask them where they were in the last five years? Also ask them, when they were in power in Rajasthan what work they did for you," Sonia Gandhi said.
"Did they treat any patients for free? Or cared for the hunger or the poor, the farmers, or the pain of the common man? They did not do anything at all," said the AICC president.
"They only do politics of talking, politics of misguiding people and politics of power and personal gains," said Sonia Gandhi. "If you will compare what their leaders have contributed with what our leaders have done for the country and state, then things will be crystal clear. You can believe the Congress, and we will defend your faith," she added.
Significantly, unlike earlier times, there was no mention on free medicines being called poison by opposition leaders, especially Vasundhara Raje in her 20 minute speech.
Ashok Gehlot, whose government is already providing free medicine, tests and free dialysis has now promised to provide free Magnetic Resonance Imaging test and Computerised Tomography if it comes to power again.
During the rally, the chief minister also alleged that during BJP's Vasundhara Raje's rule, 21 times police firing had taken place in which 90 people were killed including 70 people from the Gurjar community. But in his tenure, even after Gurjar community people staged dharna over reservation, leave aside firing, they were not even lathi charged.
Image: UPA chairperson Sonia Gandhi and Rajasthan Chief Minister Ashok Gehlot at a rally in Sikar district
Photographs: Chandra Mohan Aloria