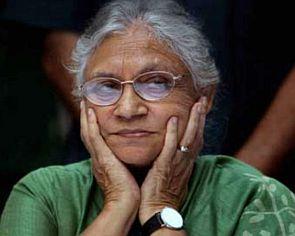 Seeking a record fourth term in office, Delhi Chief Minister Sheila Dikshit on Sunday questioned the source of funding of Arvind Kejriwal's AAP -- a new force in the city's political scene -- whose main election plank is to check corruption.
Launching a counter-offensive on AAP, Dikshit lambasted it for making baseless allegations against her government and trying to paint everybody with the "same brush" and questioned its credibility as a political party.

"Where do you (AAP) get all the money from? You can call me a liar or I can call you a thief. But is there any proof to say that I am a liar? Is there any proof to say that you are a thief? Just by pointing fingers you cannot make somebody corrupt. Everybody is living in glass houses," Dikshit told PTI in an interview.
Criticising AAP for targeting her government, Dikshit said electoral battle should be fought on broader issues of policies and programmes of a political party and not on personal allegations and counter allegations.
"I found it little disturbing (the atmosphere). Political battles are fought on what you stand for -- your vision and policies -- not on personal accusations and counter accusations. You see who is talking about corruption, who is pointing fingers at others," 75-year-old Dikshit said.
The AAP has been relentlessly attacking Dikshit and her government on the issue of corruption.
The AAP said it has collected around Rs 19 crore till November 8 as donations from 63,000 people including a host of NRIs.
The party claimed to have received donations ranging from Rs 10 to several lakhs, from rickshaw-pullers to traders and industrialists to fight the polls and bring a "graft-free" administration.

Last month, the Delhi high court had asked the Centre to look into the accounts of AAP to find out the source of the money received by it.
Asked about criticism about their source of fundings, a senior AAP leader said details of all their donations are available on their website.

Questioning AAP's credibility as a political party, Dikshit said political parties are serious affairs and said the new entrant has no track record to show.

"Political parties are serious affairs. What they (AAP) stand for. People must know their policies and programmes. The BJP has some record in Delhi. We have a track record of 15 years of governance in the city. The AAP does not have a track record," she said.
Asked whether she was dismissing the AAP, Dikshit said she was not suggesting it will have no chance in polls but has serious reservations about the way it carries its politics.
"I will not say they do not have a chance."
The chief minister said the contest will be between the Congress and BJP.
Asked about projection by opinion polls that AAP will win significant number of seats in the election, Dikshit dismissed the results, saying their credibility was questionable.
"We cannot take the results of the opinion polls seriously. They are not factually correct. They are not conducted in a transparent way," she said
A number of opinion polls in the last one month predicted a hung House for Delhi in the 4 December assembly polls as most of them projected that neither the Bharatiya Janata Party nor Congress will get majority on its own.
Dikshit said the opinion polls were conducted much before announcement of candidates and release of manifestos by the parties and their outcomes cannot be considered reflective of the ground realities.

She said there was scope for "manipulation" of the results of the opinion polls.