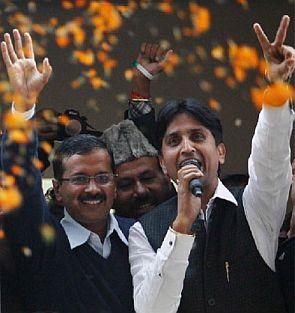 Should Aam Aadmi Party form a government?
Delhiites' response to this one-line poser from Arvind Kejriwal's party is overwhelming.

Party sources claim that roughly 70-80 per cent people, who have taken part in the referendum, want Kejriwal to become chief minister and run the government with the outside support from the Congress.

However, the official tally of the responses is yet to be taken.
Kejriwal has said that his party would take a decision on whether or not to form the government by Monday.
The AAP leader is waiting for people's advice on the decision, which he has dubbed as a "dharamsankat"
The issue though has divided Delhi vertically.

One elected MLA of the AAP told rediff.com that people, who have been voting and sending SMSes advising the party to form the government, are media-driven.

Currently, the media has been running a campaign urging the AAP to form the government and not run away from taking responsibility.

Those Delhiites who are against the AAP forming the government say that the party should not trust either the Congress or the BJP because they would never allow the former to have a smooth run.

If the AAP is exposed because of conspiracies of mainstream parties, it will suffer in the Lok Sabha election where it stands a strong chance to emerge as a political force.

"If (NCP chief) Sharad Pawar with just 9 MPs can have so much weight in the UPA, imagine what AAP can do if it gets 15 to 20 Lok Sabha MPs in Parliament," argues president of a Residents Welfare Association in Greater Kailash colony in New Delhi.

He added, "Kejriwal must not get lured and ruin the chance of growing big".