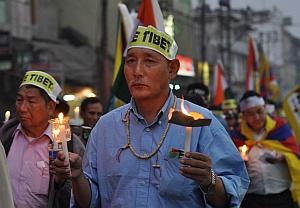 On the occasion of World Human Rights Day, Tibetan refugees in the northeast under the banner of Tibetan Solidarity Committee, North East India today took out a candle light procession and staged protest here calling for sustained help from the global community to end the spree self-immolation protest in Tibet by giving genuine autonomy to Tibetans.

The protestors demanded an end to brutal crackdown in Tibet and release of all the political prisoners, immediate dispatch of the independent fact-finding representatives to Tibet, immediate lifting of media ban and free movement of the press in Tibet.

The solidarity committee stated that so far 92 Tibetans had resorted to self-immolation calling for freedom in Tibet and return of the Dalai Lama from exile.

"The deteriorating situation in Tibet continues with media black-out and blockage of all major means of communication with the outside world. This will result in further isolation of Tibetans and the world will remain unaware of the ongoing brutal and inhuman suppression which is expected to worsen in all days to come.

"The recent events have caused the Tibetan people much anguish. The Tibetans in exile are extremely concerned over the safety and security of the Tibetans in Tibet in absence of media and third party witnesses." the solidarity committee stated.
It also appealed the world governments, international communities to undertake the following to redress the crisis in Tibet.

The candle light process was aimed at expressing the self-exiled Tibetan refugees' solidarity towards Tibetan peaceful struggle in Tibet and also to urge the international communities and Tibet support groups, peace lovers to help Tibetans resolve the Tibet issue sans further delay.

The solidarity committee expressed its gratitude to the government and people of India for the latter's' support for last many years and appealed to the people and the government of India to help resolve Tibetan crisis through peaceful negotiation.
In pic: Members of the Tibetan Solidarity Committee (northrast India) take out a candle rally in Guwahati