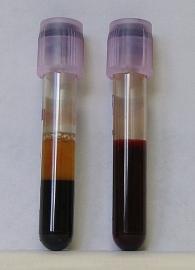 The Assam government has decided to file a criminal case over the shocking incident of several patients getting infected with the AIDS virus after receiving blood from the blood bank in a government civil hospital at Mangaldoi in North Assam.
At least four people contracted the AIDS virus after they underwent blood transfusion at Mangaldoi Civil Hospital from a professional donor who later turned out to be an HIV positive person.
The patients, who had been hospitalised for a variety of ailments, had to cough up a whopping amount of money to procure the blood.
"I have instructed for the registration of a criminal case in the matter. Mere suspension of some official will not be enough, it is a case of criminal negligence," said Assam Chief Minister Gogoi.
He added that the state government would dole out compensation to the affected patients.
The CM has already ordered an enquiry by additional Chief Secretary P P Verma into the entire matter on Friday and asked for the report within 30 days.
State Health Minister Dr Himanta Biswa Sharma on Saturday deputed a three-member team of experts from the Gauhati Medical College and Hospital to the Mangaldoi government civil hospital to make a thorough enquiry. The team has been instructed to submit its report within 72 hours.
The horrifying episode, highlighting the appalling state of healthcare in government hospitals, has sparked state-wide protests with many organisations demanding the resignation of the health minister.
Four patients were reportedly diagnosed as HIV positive in Mangaldoi Civil Hospital months after they had taken blood from a particular donor at the hospital.
The shocking lapse came to light when one of them, after testing HIV positive, filed an RTI application to seek details about his diagnosis when he was undergoing treatment in the hospital a few months ago.
When all his donors were tested, one of them proved to be HIV positive.
Later, it was revealed that the same infected person had given blood to three other patients in the hospital, including a woman.