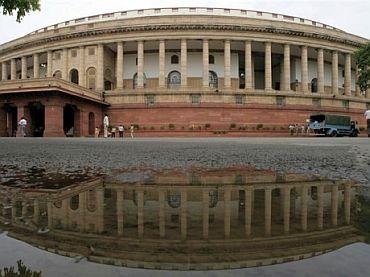 The Andhra Pradesh Congress and Telugu Desam members of Parliament are to strategise their approach on how to plan an agitation inside Parliament on Friday. Groups of MPs have already fixed dinner meetings. News is that Telangana MPs are also planning such meetings.

Informally, these MPs say that they will not be fighting the Lok Sabha polls because of fear of losing their deposits. Some MPs bravely want to defy the Congress diktats. It is now an open secret that these MPs will stall the Food Security Bill in Parliament.

This dinner diplomacy picked up with the acceptance of NTR's son Harikrishna's resignation from the Rajya Sabha.
Congress MP from the Rajya Sabha K V P Ramachandra Rao has requested all Seemaandhra central ministers and MPs to attend a meeting at 6 pm on Thursday and to stay until dinner.