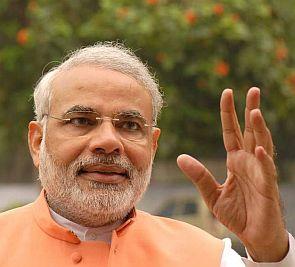 Attacking Congress, Gujarat Chief Minister Narendra Modi alleged on Tuesday that anti-Gujarat elements continued to hinder the state's progress despite being taught a befitting lesson by the people in the elections.
"Those who are mindlessly criticising Gujarat day and night will continue to do so. Instead of joining the journey of the state's development, they continue to spread lies," Modi said while addressing farmers at the launch of 9th Krishi Mahotsav 2013 in Radhanpur, Patan district.
He pointed out that the craze to be on television or in the news is such that anti-Gujarat elements have invented new ways of spreading lies and provoke farmers to stage protests against his government.

"The people of Gujarat know such people very well and have answered them on many occasions through the ballot," Modi said.
Claiming that neither they nor their party would gain by criticising Gujarat and allegedly blocking of the state's progress, Modi asked such "anti-state elements" to give up and join the development journey of Gujarat.

"By opposing things, you will not gain. Neither will your party gain, and the question of Gujarat gaining does not arise," Modi said, in his speech.
He stressed on the need to embrace drip irrigation in Gujarat and said that from 1960-2000, only 12,000 hectares of land was under drip irrigation whereas today, over 9 lakh hectares in Gujarat is drip irrigated.

"By embracing drip irrigation, farmers not only saved water but also saved future generations. By embracing drip irrigation, farmers have not only sown seeds of their crop but also the seeds of Gujarat's future," he said.

Taking a dig at opposition Congress, Modi said "honour them if they embrace drip irrigation, even if they burn Modi's effigies, because drip irrigation is more important than Modi".
He exhorted farmers to adopt the latest technology in agriculture to enhance yield, saying Krishi Mahotsavs were a step in this direction.
"Land will not increase but the number of people will. The solution to this is to maximise production and this can be done through scientific methods," he said.

He claimed his government has taken big steps in the field of animal husbandry as well.
He said that during Pashu Arogya Melas or health check up camps, more than 5000 animals will be operated upon and for the first time, orthopaedics for animals have been invited.