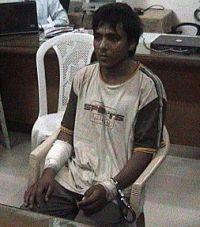 An alert has been sounded across the country following terrorist Ajmal Kasab's execution on Wednesday morning, reports Vicky Nanjappa.

While the news of 26/11 terrorist Ajmal Kasab's execution in Yerawada prison on Wednesday morning has cheered many Indians, Indian intelligence and security agencies are taking no chances and have ordered an alert across the nation.

Sources in the Intelligence Bureau say all police stations in the country have been asked to stay vigilant in the wake of the execution.

"Some forces could try and disrupt law and order and hence we have sought that precautions be taken to prevent any problems," the IB official added.

Domestic terror outfits could also take advantage of the situation and use the execution as an excuse to strike.

"It is not necessary that they will act immediately," the IB agent warned, "but due diligence ought to be observed in the days to come."

Additional security has been enforced in sensitive states like Kerala and Uttar Pradesh where there is a strong presence of the Indian Mujahideen, the homegrown terror organisation.
Security agencies do not want a repeat of what occurred after US navy Seals killed Osama bin Laden in Abbotabad, Pakistan, last year when posters supporting the Al Qaeda leader appeared in Kerala.
The police have warned of strict action in case such incidents take place.
Meanwhile, officials at Yerawada prison say none of the other inmates were aware of the execution.
"Inmates usually get to know about an execution," one prison official said, "but we ensured that the highest level of secrecy was maintained."
Image: Ajmal Kasab, the lone terrorist captured after the 26/11 attacks. Photograph: Reuters