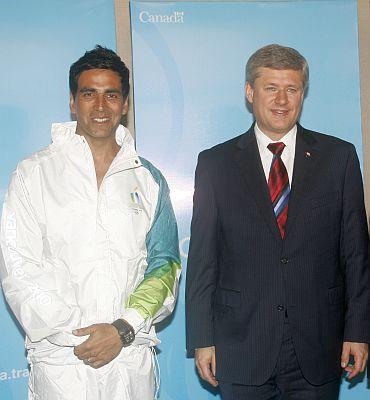 Canadian Prime Minister Stephen Harper's State dinner on Sunday in honour of visiting Indian Prime Minister Manmohan Singh will be hosted by none other than Bollywood star Akshay Kumar.

The visibly elated actor talked to rediff.com's Ajit Jain hours before the State dinner.
Did the invitation come from the Canadian prime minister?
Yes, it came from Mr. Harper's office.
How did this invitation come -- Harper asking you to emcee the State dinner where there would around 1000-odd guests? You stay so far away from the country…

Why not? I have always considered Canada my second home. (Akshay has Canadian Landed Immigrant status). I guess I see myself as a bridge between India and Canada to promote culture and friendship between the two countries.
Were you in two minds before accepting the invitation?
Not at all! I was supposed to be booked for my annual vacation; I cancelled that. I will have to make it up to my wife and son.
You will be meeting Prime Minister Manmohan Singh at the dinner event…
I will be honoured to meet him. I will tell him that he is the real super-hero who has managed such a complex and diverse nation of over a billion people so effectively and has made every Indian so proud on the world stage in every arena.
Would you mention the Air India tragedy in your conversations with the two leaders? The evening amost coincides with the 25th anniversary of the Kanishka bombing…
I think the Canadian prime minister has already apologised for this tragedy. My prayers are with the Air India victims' families. Nothing can replace their loss. I believe it is time to bring closure so that families do not continue to suffer any more.
You had met the Canadian prime minister in November last year at the Trident Hotel in Mumbai when he invited you to carry Canada's Olympic torch…
Yes, Mr Harper handed me the Olympic torch and invited me to run with the flame in Toronto. I accepted that invitation on behalf of all of India. However, he did not tell me the temperature in Toronto in January would be 20 degrees Celsius!
What did you discuss with Harper when you met him in Mumbai?

We had a nice chat about the potential of Bollywood movies. We talked about our families. He advised me that India, at all levels, was the top priority of his government.
Have you met him again since then?

No, we have not. But I was invited along with my family to his summer home at Harrington Lake, which I did accept. I will visit him there soon.

Image: Akshay with Canadian Prime Minister Stephen Harper