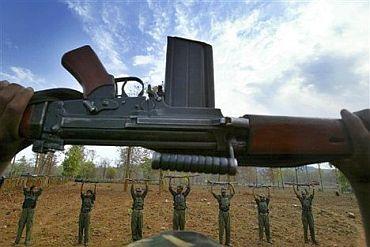 Various alleged administrative and financial irregularities worth crores have been pointed out in execution of development works in worst Naxal-hit Bastar district of Chhattisgarh by state Accountant General.
In its sample inspection, AG officials found that works worth over Rs 14 crore under Backward Regions Grant Fund were pending in Bastar district.These works should have been completed during the period of 12th Finance Commission.
The tenure of the 12th Finance Commission was between 2005-06 to 2009-10. After this, the term of 13th Finance Commission began.
Works under 12th Finance Commission could have not been approved after 2009-10, but it has been found in inspection of documents that various works were approved after the expiry of 12th Finance Commission's term, the inspection report by office of the AG, which acts as distant arm of Comptroller and Accountant General, said.
Eight hundred works were approved between 2007-08 and 2012-13 involving Rs 23.26 crore. Of these, 660 works were completed and 140 were pending execution. The state government has spent Rs 20.06 crore on these works, it said.
The report, which was accessed by right tot information activist Ajay Dubey, said people of the area were denied benefits due to non-completion of these works.
The AG found that 562 works worth Rs 10.06 crore, approved under BRGF scheme, were not completed in Bastar, which is one of the worst Naxal-affected district of the state.
As many as 6,134 development works were approved between 2007-08 and 2011-12. Of these, 5,562 were completed and 562 works involving Rs 10.06 crore were not completed, the report said.
It is clear that out of 6,134 works approved between 2007-08 and 2011-12, 562 works involving Rs 10.06 crore were incomplete even after completion of five years time (since their approval), it said.
The AG report found alleged wrongful payment of Rs 1.78 crore and withholding Rs 8.74 lakh for works approved during 11th Finance Commission which ended on 2004-05. The Central government provides financial help under five-year finance commission for development works.
It also found alleged lapses in executing programmes approved under 'Rashtriya Jalgrahan Kshetra Vikas Yojana' .
About Rs 27 crore was allocated for works under the scheme of which Rs 22.02 crore was spent. An amount of Rs 4.98 crore was not spent on the approved works, the report said.
It also found fault with the district administration for not returning Rs 1.25 crore allocated for expenses on transportation of food grains under National Food For Work
Programme. The central government has directed that amount allocated under NFFWP, which has been closed, be transferred to Mahatma Gandhi National Rural Employment Guarantee Scheme.
The inspection found that Rs 1.25 crore meant for NFFWP was not deposited with state exchequer. The AG office also found that district administration has approved Rs 5.04 crore for works under 13th Finance Commission (2010-11 to 2014-15) which was higher that Rs 3.60 crore that could have been approved for these schemes.