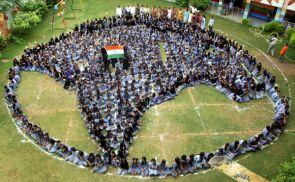 The Jammu and Kashmir high court has directed the Centre and Chief Election Commissioner to act against politicians who seek people's mandate in elections by invoking religious nationalism, to prevent them from subverting the Constitution of the country.
"In our constitutional philosophy, there is only one 'ism that is Indianism. All other isms are sworn enemies of Indianism. Any person claiming to be Hindu nationalist, Muslim nationalist, Sikh nationalist, Buddhist nationalist or Christian nationalist is not only working against Indianism but against the very thought of India," Justice Muzaffar Hussain Attar said in a landmark judgement earlier this week.
Disposing of a petition filed by Kashmiri Pandits seeking protection of their religious places, Justice Attar observed that it appears that "in terms of Constitution of India, which guarantees all the rights, which include right to practice and profess one's religion and faith, there was no requirement of ringing in expression 'secularism' in the preamble of the Constitution.
"This expression has evoked sharp reaction from a section of population and divided people of the country into different pigeon holes of different isms. A very serious and potential threat is posed to the very existence of the idea of India by the fringe elements, who take cover under various types of isms other than Indianism.
"India is not a Hindu, Muslim, Sikh, Buddhist or Christian India. It is India which is born from the bosom of unrelenting struggle of millions of people," he said.
The Court directed all constitutional authorities and the Union government to ensure that anyone attempting to subvert Constitution of India is stopped by taking recourse to the provisions of the law.
"Besides all constitutional and statutory authorities, Union of India through Home Secretary is directed to consider and ensure that all persons and organisations, who attempt to subvert the Constitution of India, are stopped in their tracks by taking recourse to the provision of law," Justice Attar said.
The Court directed the Chief Election Commissioner to invoke the provisions of law including Representation of Peoples Act against the persons and organisations whose actions and utterances pose threat to the Constitution of India.
"He (CEC) is further directed to consider for issuance of executive instructions for disqualifying of such persons from contesting elections to Parliament and state legislatures and for barring such organisations and individuals," says the judgement.
The Court also directed the state government to take all necessary steps for protection of religious places of Kashmiri Pandits, saying any person who may be affected in this process shall be afforded opportunity for hearing and thereafter appropriate orders be passed.
"All other constitutional authorities may take steps in accordance with Constitution of India and Constitution of J&K and laws of the land for protecting the religious places of petitioners, including the places of cultural heritage," the court said.
The authorities were directed to consider making new laws for accomplishing the purpose, in addition to taking appropriate action in terms of the existing laws.