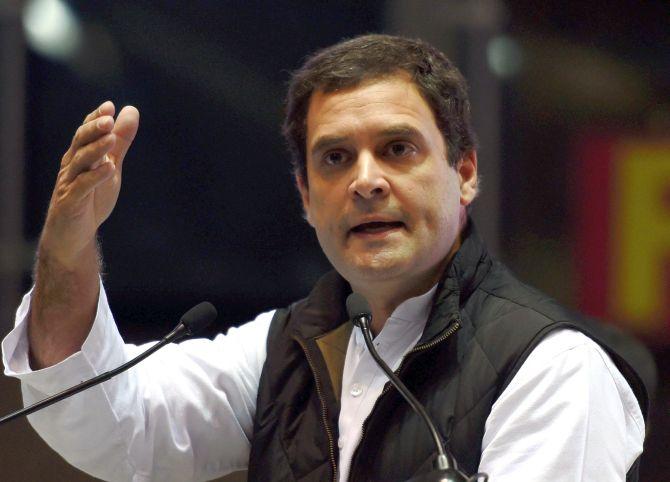 Setting the tone for Congress' campaign in assembly polls in five states, party vice president Rahul Gandhi on Wednesday launched a no holds barred attack on Prime Minister Narendra Modi, accusing him of instilling fear among people and wrecking the economy through demonetisation, while asserting that the Congress will unseat the Bharatiya Janata Party from power in 2019.
A day-long national convention, called in the wake of demonetisation, saw top Congress leaders including former prime minister Manmohan Singh and former finance minister P Chidambaram coming down hard on Modi. Singh cautioned people that 'worse is still to come'.
Squarely blaming the prime minister for 'undermining' institutions like Reserve Bank of India, Election Commission and judiciary, the Congress vice president said the ruling dispensation has also created fear among the media which he felt was not being able to carry out its responsibility as a watchdog effectively.
Billed as 'Jan Vedna' Sammelan, the meet attended by Congress Working Committee members, Congress chief ministers, All India Congress Committee office bearers, members of Parliament, Pradesh Congress Committee chiefs and state leaders announced the second phase of protest action against note ban including gherao of RBI offices all over the country on January 18.
A combative Gandhi, who was ridiculed by Modi some time back, gave back in kind mimicking him, especially his oft repeated 'mitron' (friends) reference, alleging that the PM always tries to instill fear among the people.
"You look at BJP's policies. Their entire aim is to scare the people of the country. Fear terrorism, Maoism, demonetisation, scare the media. In two-three months, in the entire country, they have spread this fear," Gandhi said.
Taking an apparent dig at Modi, Gandhi satirised a song, saying "Aapka toh lagta hai bas yahi sapna, ram ram japna garibo kaa maal apna (It seems your only dream is to take away money from poor while chanting the name of Ram)".
He said, "These people want to rule over the country by instilling fear. Congress will defeat these people and remove them from power. We do not hate them or have anger against them. But we will defeat their ideology."
Gandhi also utilised the occasion to raise the issue of personal corruption against the prime minister, wondering as to why he was silent on the Sahara-Birla diaries despite the opposition raising questions.
Chidambaram claimed there was no record of the Cabinet meeting of November 8 which, according to the government, had taken the demonetisation decision. Describing institutions like the RBI, the Election Commission and the judiciary as 'soul' of India, Gandhi alleged that they are being 'undermined' by the present government.
"We respected RBI's independence. It is the financial bedrock of India and now it is being ridiculed. People in the RSS (Rashtriya Swayamsevak Sangh) and the BJP are under the impression that nobody else's opinion matters but theirs," he said.
Turning to the media, Gandhi said it might have shown him in poor light or written against him but he would never scare them or work against their interests.
Taking a dig at Modi on yoga, Gandhi claimed that the prime minister cannot even perform 'padmasana', a cross-legged sitting position, and said a yoga teacher told him that those who cannot perform padmasana cannot do yoga.
Taking the jibe further, Rajasthan Congress unit chief Sachin Pilot said the prime minister may not be able to perform padmasana but has made the entire country do shirsasan, a pose in which the performer stands on his head.
It was an all-Rahul show where the Congress vice president presided over the convention as party chief Sonia Gandhi has been taking a back seat for quite some time.
Rahul had presided over the party's foundation day function on December 28 last and two months back chaired a meeting of the CWC, the party's highest decision making body. He had also chaired a meeting of the general body of the Congress Parliamentary Party in the absence of Sonia, who was then said to be unwell, triggering speculation about his elevation.
Congress insiders said Rahul's elevation as Congress president was just a matter of time.
Gandhi, in his opening remarks, spoke about the note ban, insisting it was for the first time that India's PM was being 'ridiculed world over' for taking such an 'ill-conceived' decision.
"Never before every single economist of any repute said that prime minister has taken an ill-conceived decision," Rahul said, adding demonetisation was a 'personal' decision of Modi.
Referring to Modi's 2014 Lok Sabha election campaign line that 'achhe din' will come when the BJP was voted to power, Gandhi said only Congress' return to the helm in 2019 will bring in good days.
Gandhi kept up the suspense on the issue of alliance for Uttar Pradesh assembly election, cryptically remarking it will be an 'exciting affair'.
"Uttar Pradesh mein maza aayega (it will be an exciting affair)," he said.
Speaker after speaker at the convention, including Ghulam Nabi Azad, Mallikarjun Kharge, Kamal Nath, Ahmed Patel, Kapil Sibal, Sachin Pilot and Jyotiraditya Scindia attacked the prime minister.
Sibal said a probe will be ordered on how much BJP benefitted from the demonetisation.
Gujarat PCC Chief Bharat Singh Solanki said it was important for the Congress to defeat the BJP in the upcoming assembly polls in five states.
Youth leader from Assam Sushmita Dev said demonetisation has created such a strange situation that the currency of Bhutan is being used in parts of North East.
The convention also adopted a resolution condoling the death of 125 people in the wake of demonetisation which resulted in huge queues outside banks and ATMs, and demanded compensation for the families of the deceased.
In another resolution, the party hailed Indira Gandhi in her birth centenary year and accused the National Democratic Alliance government of attempting to 'belittle' her life and work.
Congress will hold 'Jan Vedna' conclaves across all states between January 20 and 25 and at district and block levels thereafter.
*****
Forget 2019, Congress won't regain power even till 2090: Naidu
Taking a dig at Rahul Gandhi for his remarks about the Congress coming back to power at the Centre in 2019, Union minister M Venkaiah Naidu today said the Congress vice president was 'daydreaming' and wondered what 'achhe din' meant for a party which was accused of 'scams, scandals and policy paralysis' during its regime.
'I am surprised at the Congress vice-president's claim of bringing achhe din in 2019. What is achhe din for the Congress? Scams, scandals, policy paralysis, inactivity, inertia, rising prices, undermining every institution etc. are the legacies of the Congress rule. Are these achhe din?
'Congress seems to be daydreaming about coming back to power in 2019. Forget 2019, it will not even be able to come back to power in 2090,' the Union Information and Broadcasting Minister said in a statement.
Photograph: Subhav Shukla/PTI Photo