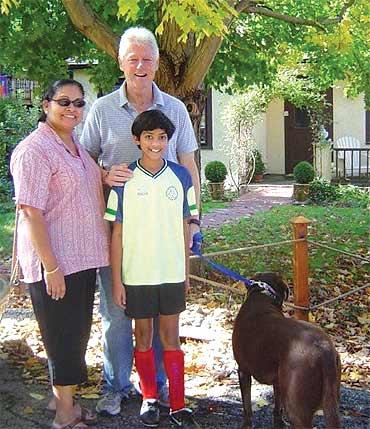 Former United States President Bill Clinton always waved and said hello to Shobha Vanchiswar when he walked through her neighbourhood in Chappaqua, New York, as part of his daily exercise routine.
One day in the fall of 2007, Vanchiswar got the nerve to strike up a conversation with him. She had heard Clinton talking on television about his foundation.
"He was talking in a way that made sense to me," Vanchiswar said. "Eliminate the hoopla and spend all of the money on the charity work. I was listening to someone who feels the way I do. I really connected with what he was saying. I was listening to someone who has fame and power, speaking what's exactly on my mind."
Vanchiswar, a native of Mumbai, told Clinton she was interested in his foundation's work. Clinton arranged for Vanchiswar and her husband Dr Murali Mani, who works for Philips Research USA in Briarcliff Manor, New York, and daughter Mira, who was 10 at the time, to see some of the foundation's work during their holiday to India in December 2007.
The Clinton HIV/AIDS Initiative negotiates lower costs for antiretroviral treatments and works with local governments to improve health-care systems. The family's tour of the non-governmental organisations -- Asha Kirana Hospital in Mysore, Karnataka, and two orphanages for children with HIV/AIDS, the Naya Jivan and Muktajeevan outside of Mumbai, all of which receive support from the Clinton Foundation -- was a life-changing experience.
Vanchiswar was inspired to write a series of poems about "the children who had won my heart forever." She put her collection of poems along with photographs from the orphanages and published a book called The Lucky Ones.

"I wanted to do something," said Vanchiswar, who was educated as a scientist, and is an artist, writer, and garden designer. "Writing an article for the newspaper, telling friends to donate money didn't seem enough. The normal thing for me is to write poetry. I write poetry about whatever affects me. The poems just started coming to me. When I was done, I felt a catharsis."
She was deeply touched by her meeting with the children who had contracted the AIDS virus at birth, and their caregivers. "Against all odds, these children live lives filled with joy," Vanchiswar said.
"The Clinton Foundation is invited into countries, and they come in to do things others are not doing. They're really trying to help with reaching out and identifying patients and getting help for them and helping the NGOs. The people I met through the Clinton Foundation are brilliant, motivated and energetic. They believe in what they are doing," Vanchiswar said. "I wanted to make a contribution, create an awareness of this for people to realise that there's hope. Each of us is capable of doing more than we think we are capable of. My natural instinct was to do something for the country I grew up in."
She titled her book The Lucky Ones, she said, because these children are truly fortunate to have been identified, treated and cared for by the foundation.
Clinton, she said, has agreed to sign 250 copies of the book. The books will be sold through the museum store at the Clinton Library in Arkansas. Copies will also be sold at the New Castle Historical Society in Chappaqua. All proceeds from sales of the book will go to the Clinton Foundation's AIDS initiative.
Image: Former US President Bill Clinton with Shobha Vanchiswar and her daughter Mira