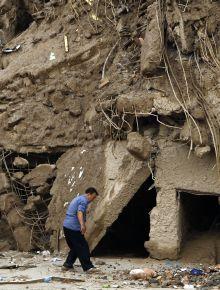 A powerful 6.6-magnitude earthquake on Monday ripped through China's mountainous northwestern Gansu Province, killing at least 54 people, injuring nearly 300 others and destroying thousands of homes.
The quake shook the area at 7.45 am at the junction of the Minxian County and Zhangxian County, the Gansu Provincial Seismological Bureau said.
The epicenter, with a depth of 20 km, was 170 km away from the provincial capital Lanzhou, state-run Xinhua news agency quoted officials as saying.
The quake was shallow, which can be more destructive. A 5.6-magnitude quake jolted the same area later at 9.12 a.m, the agency said.
"The death toll from the deadly quake has risen to 54," Xinhua quoted Gansu Earthquake Networks Centre as saying.
Nearly 21,000 rooms from 5,600 houses have been damaged, while 1,203 rooms collapsed in Zhangxian County.
Cables were damaged, cutting telecommunications in Minxian County. Communication was cut off in 13 towns of Zhangxian County. Officials of with the Minxian County government said most of the townships in the county have been affected by the quake. The townships of Meichuan and Puma were seriously hit.
Many homes in the quake-hit region collapsed, according to the civil affairs bureau of the Dingxi City. The locals in Minxian County said a strong tremor was felt in the area and they saw trees and homes shaking. They also said that the quake lasted for nearly one minute.
According to state-run CCTV, Chinese President Xi Jinping has urged crews to prioritise the rescue of survivors and minimise casualties. Soldiers, police and more than 300 local militiamen have been dispatched to the quake-hit region to help with rescue efforts.
The provincial civil affairs department has sent 500 tents and 2,000 quilts to the quake-hit region. The Red Cross Society of China has also sent a team of disaster relief workers, with 200 tents, 1,000 family emergency kits and 2,000 cotton-padded jackets.
The Lanzhou Railway Bureau has started emergency response to guarantee the safety of railway bridges and communication equipment in the province. Light to moderate rain and partly heavy rain were forecast in Dingxi city, according to the provincial meteorological station, which would affect the rescue efforts.
Meanwhile, the earthquake was also felt in Tianshui city and the provincial capital city of Lanzhou besides in the cities of Xi'an, Baoji and Xianyang in neighboring Shaanxi Province.
Image: A landslide-hit road in China's Gansu Province in this 2012 photograph
Photograph: Aly Song/Reuters