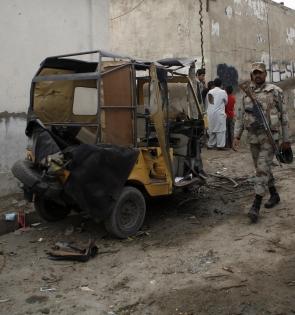 At least five people were killed and 17 others injured on Wednesday when a bomb exploded near a government office in the Quetta city of Pakistan's restive Balochistan province.
Several vehicles and nearby buildings were damaged as a result of the blast near the national database and registration authority.
The bomb disposal squad said 6-7 kilogrammes of explosives were planted in a motorcycle. Police officials said the CNG cylinder of the vehicle exploded following the blast.
Five people were killed and 17 others injured in the explosion. The injured have been shifted to the CivilHospital for treatment, the police said.
Balochistan has been a flashpoint for separatist insurgency and sectarian violence since 2004. There have been frequent outbreaks of violence in the province involving both Islamist terrorists and separatist rebels.
Baloch separatist insurgents have been demanding more autonomy and a greater share of Balochistan's natural resources. Target killings, bomb blasts and kidnapping are rampant in the area.