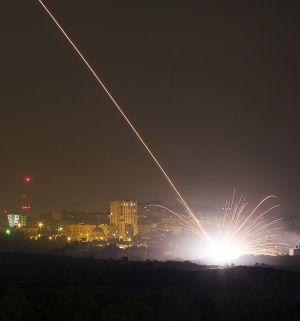 Intensifying its targeted assassinations of militants, Israel's air force on Thursday bombed a house in Gaza killing three senior Hamas commanders among 19 Palestinians on the 45th day of the deadly conflict.
The 3 field commanders killed, Mohammed Abu Shamala, Mohammed Barhoum and Raed al-Attar, were key to Hamas operations including smuggling, tunnel construction and also played a role in capturing Israeli soldier Gilad Shalit in 2006, who was later released in a swap deal.
They died in the attack near the southern town of Rafah, sources in Gaza said.
Attar was the most senior commander in the south and was seen taking Shalit from the car and handing him over to the Egyptians during the prisoner exchange in 2011.
Shamala was the Rafah commander said to have been responsible for planning the capture of Shalit.
Barhoum, a close relative of Hamas spokesman Fawzi Barhoum, was a senior local commander. The Hamas field operatives were among at least 6 killed, sources said.
The attack comes on the heels of another attempted assassination of Hamas' military wing chief, Mohammed Deif, whose wife and infant child are said to have been killed in Tuesday night's attack.
Shortly afterwards, another person was killed in a raid on Nusseirat refugee camp in central Gaza.
During the morning, two Israeli strikes targeted groups of people in the street in the northern town of Beit Lahiya and in Gaza City, killing another seven Palestinians, four of them children, emergency services spokesman Ashraf al-Qudra said.
The strike in Beit Lahiya killed a man and a 13-year-old boy, while five people, including three children died in Gaza City, he said, without giving their ages.
Another person in Nusseirat camp died of injuries sustained earlier in the conflict, Qudra said.
Another Israeli air strike killed four Palestinians at a graveyard in Gaza City with medics saying they were attending a funeral.
The raid hit a graveyard in Sheikh Radwan in northern Gaza City, Qudra said, without giving further details.
Separately, the Israeli army said it had struck six militants from Islamic Jihad who were making "final preparations to launch rockets." It was not immediately clear if the two events were linked.
Hostilities between Israel and Gaza militants resumed after peace talks mediated by Egypt collapsed on Tuesday ending 10 days of a lull in fighting between the two sides.
The latest deaths bring to 2,065 the number of Palestinians killed during six weeks of fighting between Israel and Hamas after the Jewish state launched Operation Protective Edge on July 8.
Image: An Israeli rocket is fired into the northern Gaza Strip Photographs: Amir Cohen/Reuters