'This book is really the story of the woman whose destiny takes her onto the path of an inordinately iconic man whom the world reveres as God!'
'It is the day-to-day demolition of her dreams that are at stark variance with those who view him as a trail blazer on the holy path to redemption, while he wrecks the peace of those whom he loves the most; his family.'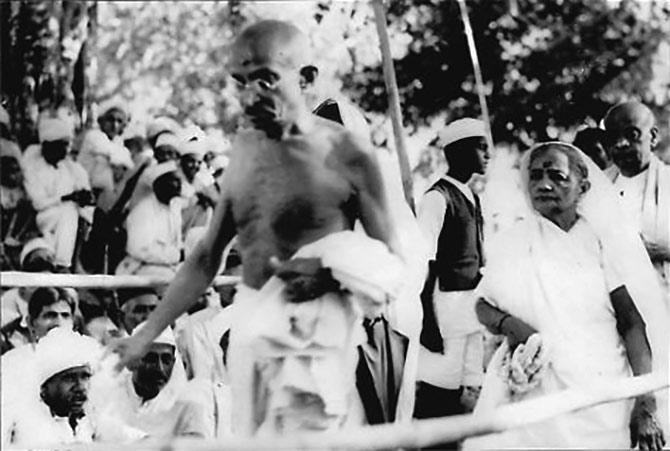 IMAGE: Mahatma Gandhi with Kasturba Gandhi and Sardar Vallabhbhai Patel. Photograph: Kind courtesy Wikimedia Commons
When Neelima Dalmia Adhar decided to write a fictional diary, she didn't choose an ordinary person.
She chose to write the 'secret diary' of Kasturba Gandhi, the Mahatma's wife.
In this, her third book, The Secret Diary Of Kasturba -- she has also written a biography, Father Dearest: The Life And Times Of R K Dalmia and a fictional book, Merchants Of Death -- she praises Kasturba but makes her husband, the Father of the Nation, sound very un-Mahatma-like.
Dalmia Adhar tells Rediff.com's A Ganesh Nadar that, while she admires Gandhi as a remarkable politician, she cannot accept him as a Mahatma.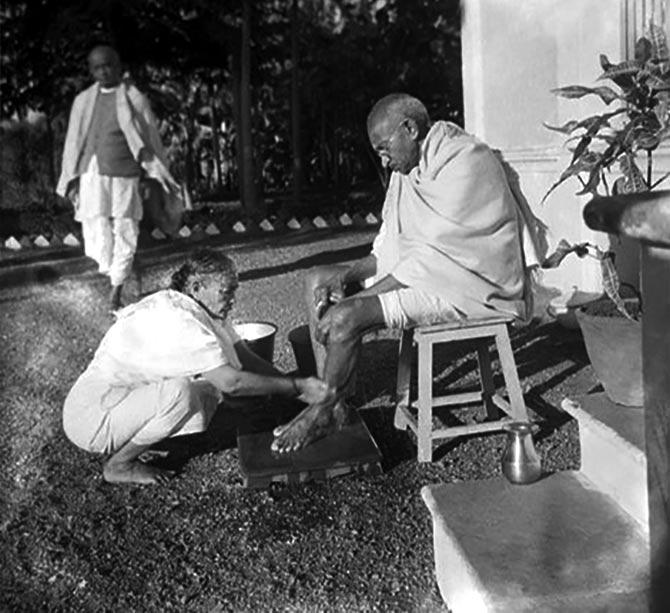 IMAGE: Kasturba washes her husband's feet. Photograph: Kind courtesy Wikimedia Commons
Do you believe Mohandas Karamchand Gandhi was a Mahatma?
While I revere Gandhi as one of the loftiest and iconic men the last century produced, being 'Mahatma' entails a whole gamut of attributes.
While we cannot dismiss the contribution of the frail 'naked fakir' in the attainment of Independence from the imperial rulers, the moral ambiguity of the man who we revere as a saint may perhaps be in sharp contrast to that perception.
While he acknowledged that he was frail and vain like any mortal, he got away with his idiosyncrasies, reckless projects, unilateral decisions and manipulations that allowed him to exercise enormous power and circumvent certain processes in both nation-building as well as in his personal life.
To call him a Mahatma is putting him on the pedestal of the divine.
At best, he was a social reformist, a thinker, a yogi, a seeker of self-realisation with all the human frailties that ordinary people possess, but unmistakably a man of the masses.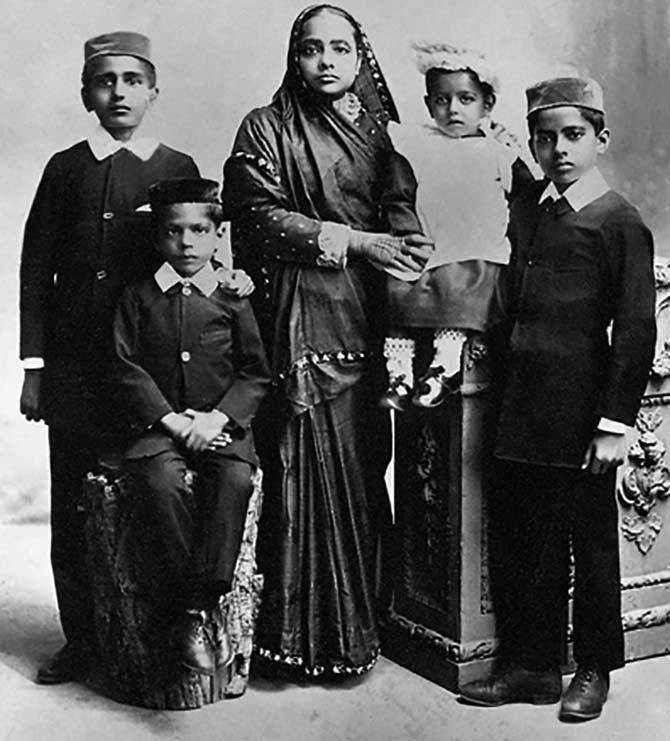 IMAGE: Kasturba Gandhi and her four sons in South Africa, 1902. Photograph: Kind courtesy Wikimedia Commons
Though you start off trying to show Kasturba Gandhi's strength, The Secret Diary Of Kasturba ends up showing Gandhi's weaknesses.
What was your aim?
The Secret Diary Of Kasturba is a fictional diary that speaks in the voice of the wife of the Mahatma.
My attempt has been to chronicle the life of the forgotten shadow woman who I believe had a larger role to play in the making of the man and the Mahatma than it is perceived to be.
This book is really the story of the woman whose destiny takes her onto the path of an inordinately iconic man whom the world reveres as God!
It is the story of the challenges and ordeals she faces, as a wife, and as the mother of his children, dealing with the ordinariness of that extraordinary man whom she watches through the filter of her own eyes.
It is the day-to-day demolition of her dreams that are at stark variance with those who view him as a trail blazer on the holy path to redemption, while he wrecks the peace of those whom he loves the most; his family.
In my narrative I have indeed illuminated the strengths of Kasturba because I feel there were serious gaps in the understanding of that woman character who stayed by his side as a constant alter ego, a staunch loyalist.
Strengths and weaknesses both are imperative to character building and I have not played up or played down one for the other. In fact, I have been ultra careful to avoid pejorative observations.
It is, however, possible for the strengths of one to delineate the weaknesses of the other.
Much like Sanjay in the Mahabharata, my role was to report events as I saw them through the eyes of Kasturba.
I leave it to the readers to form their own opinions.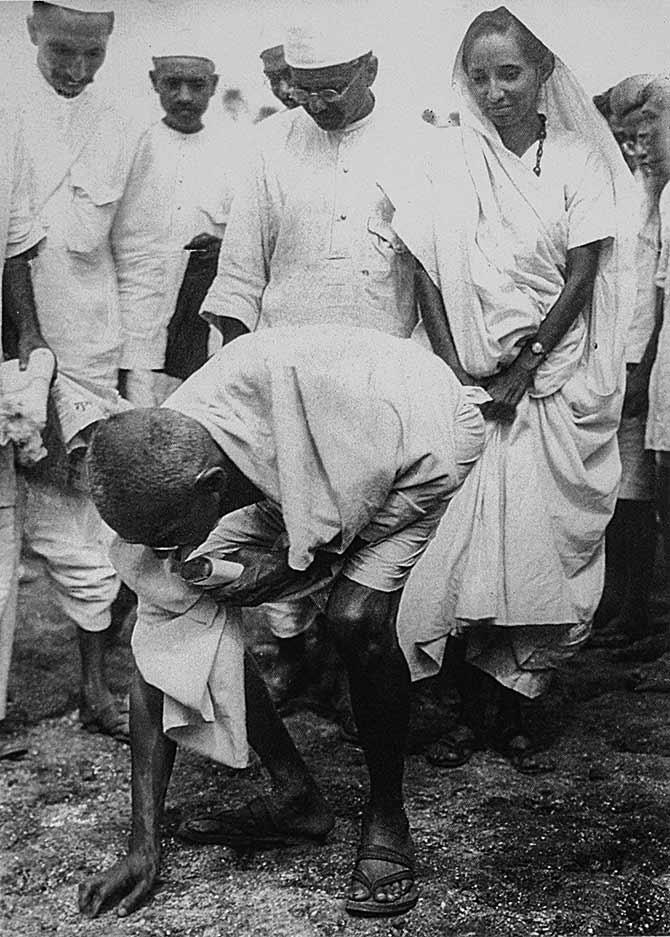 IMAGE: Mahatma Gandhi at Dandi, picking salt on the beach at the end of the salt march, April 5, 1930. Behind him is his second son, Manilal. Photograph: Kind courtesy Wikimedia Commons
You give so much space to the son who hated Gandhi, but you don't give the same space to the sons who got along well with Gandhi?
Harilal, the eldest son, does form a major portion of the chronicles in The Diary because I was deeply moved by his plight.
I found it resonating within my being as I am a product of a dysfunctional family and a broken home, ridden by paternal neglect.
I could easily understand him and his troubled mother.
And I often wept while writing about his tragic, failed life.
I have also delved on Manilal, who was subjected to similar treatment by his tyrannical father and the younger two do find brief mention in the book.
However, to say that Harilal hated his father and the others did not is incorrect.
Harilal, like his younger brothers, adored his father. He wanted to emulate him and be extolled by him in every possible way.
His waywardness was a heart-rending cry for attention from his parents, as is the case with most progeny that goes to seed.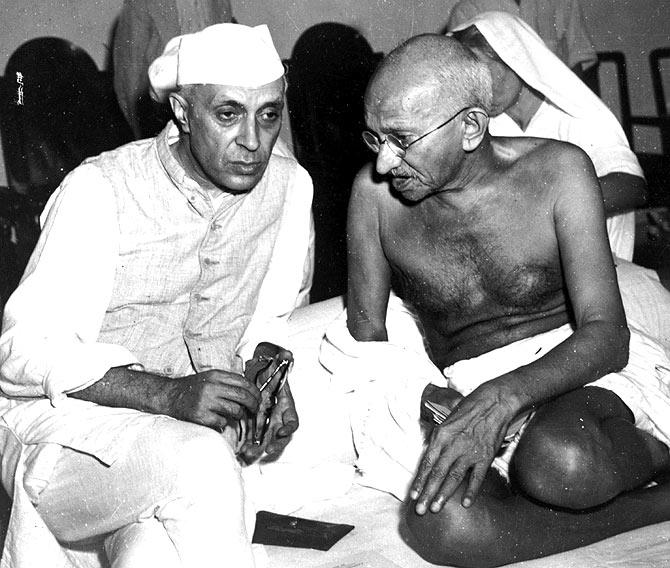 IMAGE: Mahatma Gandhi and Jawaharlal Nehru at an All-India Congress Committee meeting in Bombay. Photograph: Central Press/Getty Images
Though a large part of the book is about Gandhi's politics, there is no detail about his friendship with Jawaharlal Nehru that influenced his politics.
This book is Kasturba's story.
It is her voice from the womb to the tomb and beyond. It is her prerogative to relate what she wants us to know.
Even so, I have preserved the trajectory of the freedom movement as the canvas of this portraiture.
That is a much-travelled journey that the world knows in all its glorious detail.
My attempt was to look at the Mahatma from the other side; the lesser-known illustration of a man through the eyes of his wife.
Nehru and many others leaders were not relevant to this narrative in its present form.
That Gandhi ignored his family for his politics is a well documented fact, but you have, in many instances, shown that he purposely went against them?
This story is the story of Kasturba, the wife of 'Gandhi, the human being'.
Like all ordinary people, he was ridden with flaws and failings.
His autobiography is a candid admittance of his ordinariness.
In his own words, 'what is not kept hidden from the public is not a sin', so his discourse is laced with confessions of his practices that some may find objectionable, yet we rarely hear anything about Gandhi's moral dilemmas as well as the aberrant and sometimes cruel behaviour that drove one of his sons to alcohol and some of his staff to quit.
My objective was to resurrect Kasturba, not to demolish Gandhi and I daresay I have accomplished just that.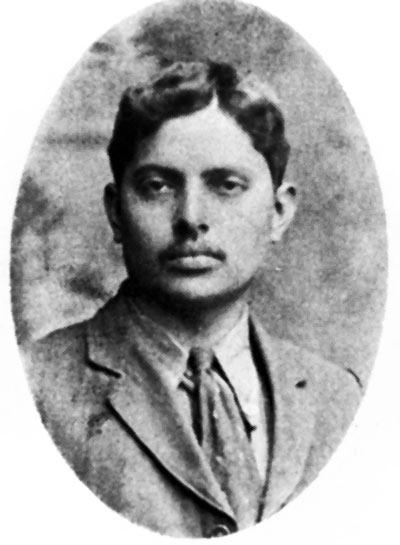 IMAGE: Harilal Gandhi, photographed in 1910. Photograph: Kind courtesy Bombay Sarvodaya Mandal & Gandhi Research Foundation
Harilal is shown as a weakling, prone to making mistakes, but the book blames his friends more than him. It also blames Gandhi.
When a child goes to seed, who or what is to blame?
Faulty parenting, overly dominating and tyrannical behaviour from either one or both parents, lack of a warm cohesive family, neglect and bad company.
Sadly for Harilal, he was a victim of all of the above.
And as a student of psychology, to me, he is a textbook case study of an aberrant and wayward child who would not have been wasted had his circumstances been different.
As a mother, his torment resonates deep within my soul.
During Partition, the entire north was engulfed in violence, but Calcutta was calm because Gandhi was present there. It finds no place in your book.
This diary is not a historical documentation of the freedom struggle, even though the trajectory of Gandhi's life forms the backdrop of my narrative.
Many more gaps may be found here as I have not touched upon the details of all the events that landmark Indian history.
My endeavour was merely to bring Kasturba to life and nothing more.
Though Kasturba did not like Gandhi sleeping next to his grandnieces, she never objects.
Kasturba was the quintessential Indian woman. She was the devoted wife and the accepting partner.
She realised Gandhi's greatness somewhere in the midst of her mid-life and began to believe that he strove for a higher and greater cause that was difficult for ordinary mortals to comprehend.
She understood his angst and sympathised with his failures.
She understood the importance of his satyagraha and vow of celibacy in his path to redemption and did not attempt to stymie it.
Yes, she did object to his drastic measures several times.
Whenever anything violated the limits of her tolerance, she stepped in.
I may add that she had begun to believe in his cause and did not impede his quest for self-realisation.
But there is no evidence to show that she objected to Gandhi's sexual practices. And much of those practices that were made public in Noakhali happened after she died in 1944.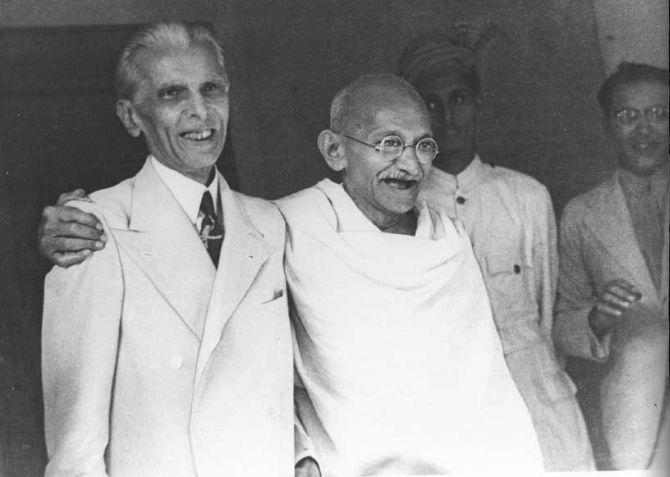 IMAGE: Mahatma Gandhi with Mohammad Ali Jinnah. Photograph: Photodivision
The Muslims who appear in your book appear as villains. Gandhi had a big following among Muslims too, a fact that is largely ignored in your story.
This is absolutely untrue.
For a start, I make no secret of my secular and liberal views about all castes, creeds and religions.
I have innumerable Muslim friends so you can lay that to rest.
We all know that Gandhi was completely secular in his approach to the minorities and the Muslims enjoyed a special status in his heart.
In fact, it was that very bias that drove the fundamentalists away from him and created a divide amongst the hardliners on either side.
I have brought that out very clearly in my narrative wherever it was necessary.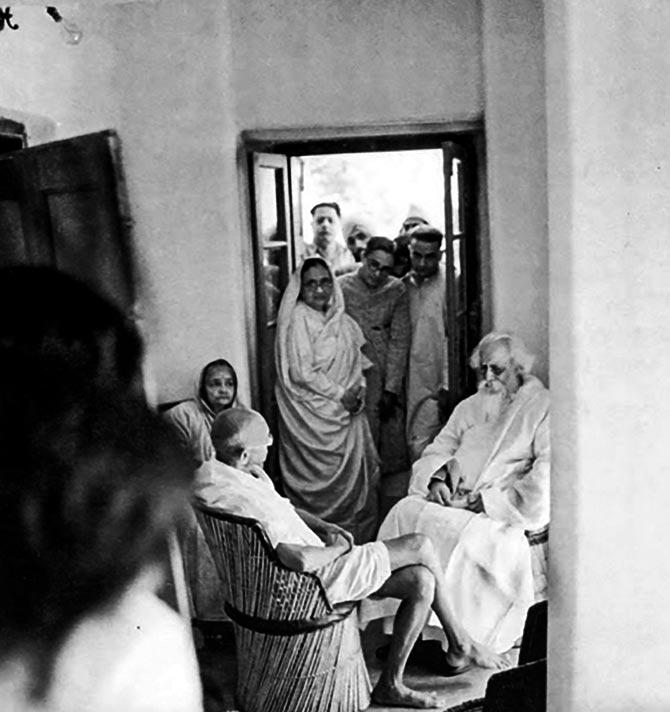 IMAGE: Rabindranath Tagore with the Mahatma and Kasturba Gandhi in Santiniketan. Photograph: Kind courtesy Wikimedia Commons
Kasturba was said to be absolutely devoted to Gandhi, a fact that does not come out in your book.
This is Kasturba's story and she has the license to tell it like she sees it.
I have quite literally let Kasturba direct the narrative on her terms, so she is NEVER intimidated by the enormous burden of painting the larger than life canvas of the man, who we all revere as a Mahatma.
For her, he's merely a husband, the father of her children; one she sees filled with frailties of the human race and all else pales into the landscape.
So, in effect, I have separated history from the woman, if not the man.
My Kasturba is not aspiring to find a place in the haloed hall of fame that her husband inhabits.
She merely attempts to 'humanise' him and earn her 'slice of the sky' denied to her by providence and the conquerors who wrote history.
Kasturba is the quintessential Indian woman, the sacrificing devoted wife, the tender loving mother, the ferocious protector of all she holds sacred, the eternal feminine Shakti that was never created, nor can she ever be destroyed.
My Kasturba lives and breathes and speaks and emotes and traipses effortlessly through the pages of this chronicle, as perhaps I would if I were her.
And I would want everyone, particularly 'young India' and the youth of the rest of the world to invade that space with me and relive the saga of this phenomenal woman, who transcends the distorted image of Rohini Hattangady in Richard Attenborough's biopic, Gandhi, and beats Father Time who buried her unsung, in the tomb and womb of the Mahatma.