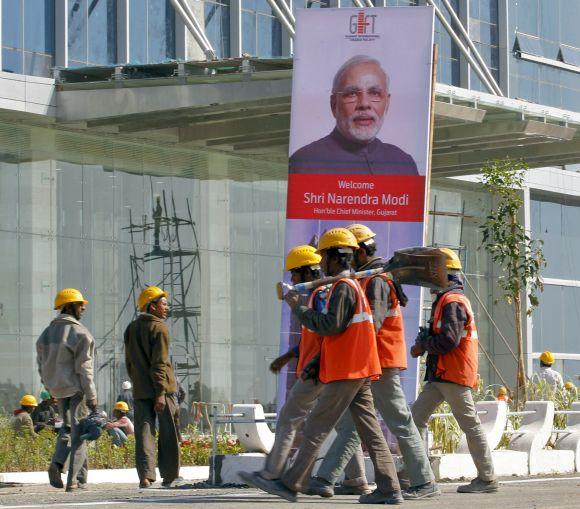 'We will certainly perform and take India to newer heights.'
'We will really like to see India become a world power in every sense of the term and build a strong and robust economy that is capable of employment generation on a scale required for a country like India,' BJP ideologue Vinay Sahasrabuddhe tells Prasanna D Zore/Rediff.com
Vinay Sahasrabuddhe, the Bharatiya Janata Party ideologue, is Director General of the Rambhau Mhalgi Prabodhini, a party think-tank that trains BJP cadres and formulates strategy.
Sahasrabuddhe, right, below, tells Prasanna D Zore/Rediff.com about the BJP-Rashtriya Swayamsevak Sangh relationship, Narendra Modi's priorities as prime minister, and why National Democratic Alliance constituents need not be wary of a stronger BJP that has crossed the half way mark on its own in the Lok Sabha.
What role could the RSS possibly play in formulating policy under a BJP-led NDA government?
It is not for anybody to speculate upon that. In an ideological driven party, when we are the product of an ideological movement -- the BJP is the product of a movement run by the RSS right since 1925 -- in a situation like this, definitely our inspirational and motivational source remains our ideology.
The RSS is the fountainhead of our ideological journey.
Therefore, the RSS may not play any direct role in policy formulation, but certainly since ideology is going to be our guiding force (while formulating policy) certainly we will be (consulting the RSS).
There has been a history of consultations with the RSS and the Sangh Parivar (the umbrella organisations that draw its inspiration from the RSS and have been spawned by it) organisations and I believe it will continue.
Never before has the RSS been as actively involved in working for a BJP victory as in this election. Do you think going forward, the RSS will want to extract its pound of flesh and try to dictate terms to the BJP as far as policy formulation is concerned?
We don't share an 'extracting a pound of flesh' kind of relationship with the RSS. We have a relationship that is comparable to what is seen in family members.
When one family member achieves a particular success, naturally all other family members are happy. Their interests are bound to be protected. It comes automatically.
We don't need to engage in any kind of tug of war or any kind of dealing or wheeling. It is but natural that the benefit (of a BJP government at the Centre) will accrue to the ideological movement because ultimately this is the victory of our ideological movement.
It is as natural as that.
BJP President Rajnath Singh during his media briefing after the BJP victory did not utter the word RSS even as he acknowledged party workers for making this victory happen. He referred to the RSS as a sanskritik sanstha (cultural organisation).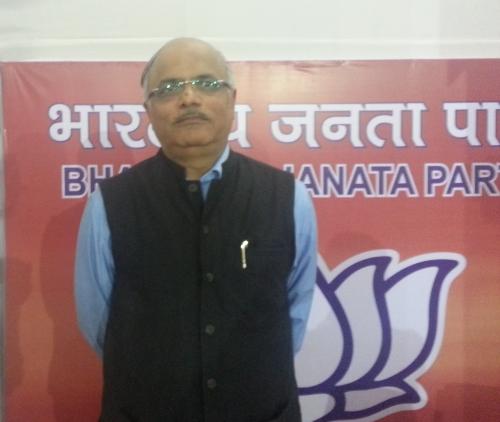 Is this huge victory making the BJP move away from the RSS?
(Laughs) No, not at all.
But he didn't publicly acknowledge the RSS?
That is not the way we thank our own family members.
The workers were thanked and not the ideological fathers of the BJP?
See the entire (spectrum of our) ideological movement has worked together, shoulder-to-shoulder, and there is not even an iota of doubt about that, but whether we formally or publicly thank them or not is a different story.
But the BJP considers the RSS its ideological fountainhead?
Normally, that is not the way. That is not the expectation (of the RSS).
What could be the top 5 priorities for the Narendra Modi-led government?
Mr Narendra Modi has been very clear in putting forth his views and he has already outlined five big issues.
Checking price rise
Putting the economy back on track
Making India an investment-attractive destination for investors from around the globe
Looking into internal security issues and terrorism
Women security, which is, of course, a very key issue and
Lastly, to effectively strengthen our defence paraphernalia
All these issues have been outlined very elaborately by Mr Narendra Modi and we believe it will continue in that fashion.
Do you see any movement forward as far as India's relationship with its Muslim neighbours are concerned, especially Pakistan?
We need not be looking at countries as Muslim neighbours or Hindu neighbours...
But Pakistan is an Islamic country?
That is okay. There are several Islamic countries in the neighbourhood and the world.
I believe Mr Modi has been very forthright in saying that he would like to have very cordial relations with all our neighbours, but India's interests will be paramount.
He has said this in so many words so there need not be any doubts at all.
Did you expect as big a sweep for the BJP?
Several party workers like me were a little conservative in their estimation, but Mr Narendra Modi, I am told, was very confident and he has told several media persons that we will form the government on our own, meaning the BJP on its own, without taking support even from its present allies.
Do you think that can happen?
Eventually, it will happen. We are close to 272 and I think we should be reaching that point very soon.
Will then the BJP ditch its allies?
Certainly not! That is completely out of the question.
Sushma Swarajji has been on record saying that we will take all our allies together.
Our relationship with the Shiv Sena (in Maharashtra) is more than two decades old now. How can we just switch it on and switch it off? We are not like the Congress.
We believe in maintaining strong and cordial relations with all our allies. We believe in engaging with the allies who have helped us or where there has been a give and take so far as the (people's) mandate is concerned and therefore we will continue with the cordiality of relations that we enjoy with our allies.
Do you think NDA constituents must now be a bit edgy considering that the BJP on its own has surpassed the 272 mark?
I don't see such a thing happening...
Especially the Shiv Sena since its relationship with the BJP has been up and down ever since the BJP tried to flirt with the Maharashtra Navnirman Sena?
The Shiv Sena also understands the value of a relationship, so I don't see a big problem on that count. Just not between the BJP-Shiv Sena in Maharashtra, but with all the 25 alliances we forged before the elections.
Where do you see India in the next five years under Narendra Modi?
Certainly we will have to perform and we have every reason to believe that we will perform because our state governments and their performances is a testimony to the robust confidence that we have in leaders of these states as well as Mr Narendra Modi's leadership abilities who will be soon India's prime minister.
We will certainly perform and take India to newer heights.
We will really like to see India become a world power in every sense of the term and build a strong and robust economy that is capable of employment generation on a scale required for a country like India.
Universally, we are regarded as Vishwa Guru (world leades) which is the ultimate aim and every citizen of India takes pride in identifying himself as the citizen of India.