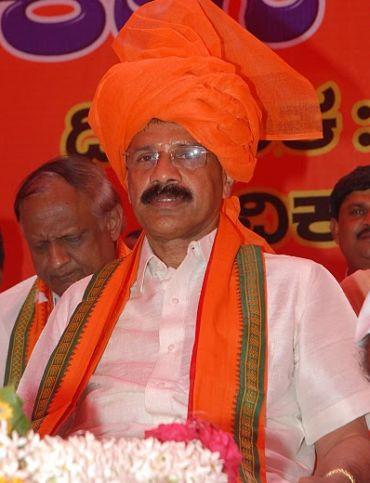 Sadananda Gowda
, who assumes charge as Karnataka chief minister on Thursday, has a tough task ahead. Ironically, that task is not the administration of the state, but to keep the Bharatiya Janata Party flock in Karnataka together.
The man is all smiles and the excitement is clear and, despite every third person in the state saying that his rival faction will pull him down, Gowda still maintains that he will sail through everything and do his best in the remainder of his two-year term as chief minister.
In this interview with Vicky Nanjappa, Gowda, who will be sworn in as chief minister in Raj Bhavan at 4.30 pm, says "troubles will come, but I am confident that I will solve every problem that comes my way".  More importantly, he says with that famous smile of his that he will be anything but a proxy chief minister at the hands of his predecessor BS Yeddyurappa.
So, what is your immediate reaction after taking over as the chief minister of Karnataka?
I am happy and everyone around me are happy.
Did you always aspire to become the chief minister?
I take what life gives to me. I do not expect anything and crave for nothing. Whatever challenge is thrown at me, I do to the best of my ability. A couple of years back I was made the president of the state Bharatiya Janatha Party and that position too I had not expected. The post of the chief minister, too, I had not dreamt of and now that it has come, I am happy and want to do my best.
The biggest talk however is that you will be a dummy at the hands of BS Yeddyurappa who pushed heaven and earth to ensure that you were selected as the chief minister of Karnataka.
Yes, I have been hearing all that too. There is nothing wrong in senior leaders supporting my candidature. This is a responsibility that has been given to me and I shall do my best. I will not be a proxy chief minister for sure.
You are sure to face a lot of hurdles and the main one would be your rival faction trying to pull the carpet from under your feet. Do you think you will complete your term?
I am hopeful that I will complete my term although there are a lot of challenges ahead. I am confident that I will succeed at the end of it.
On one hand you will need to cater to the Yeddyurappa faction and on the other work along with the Shettar faction. Will you be able to do it?
Yes, why not? I have faced many hurdles in the past and with the support of the party workers and my colleagues I have managed to get away with it. But all of you will have to give me some time before I figure things out, but rest assured, everything will fall into place.
So what will be the secret to tide through this hurdle?
According to all of you I have a famous smile, I am sure this will carry me through.
There is talk that the rival faction will boycott your swearing-in ceremony. Are you on good terms with Jagadish Shettar?
There is no doubt that they will participate in the event. I have no issues with Shettar, it is all created.
So will he and his faction be part of your Cabinet?
Now is not the time for that. These things take time since there are discussions that are involved in it. Everything will be sorted out for sure.
What about the report on illegal mining?
I do not want to say anything about that and I will have to seek a legal opinion on it. I will answer this question in a couple of days, but not at the moment. I will need to assume charge first and then look into all this.
Will you be able to keep the entire BJP flock together?
I am confident of that. I have the support and blessings of all my colleagues and they will help me do a good job in my new role. I do understand that the challenge ahead will be tough, but I am confident of coming out victorious.
Will the Bharatiya Janata Party in Karnataka remain united?
Yes.