Fifty four-year old Rajnath Singh has been receiving hundreds of visitors almost daily since he took over as president of the Bharatiya Janata Party on January 2.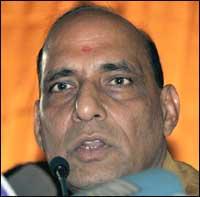 On Friday, former India cricketer and party MP from Amritsar, Navjot Singh Sidhu, cornered Rajnath to meet his supporters at the party headquarters, even though the day had been earmarked for the press. In an exclusive interview with Senior Associate Editor Onkar Singh, Rajnath Singh said that telephone tapping was bad and that no government should resort to such measures. "But I would like to know the content of the conversations in which Samajwadi Party leader Amar Singh is involved," he added.
He was also reluctant to touch issues such as his predecessor L K Advani's controversial statement on Mohammad Ali Jinnah.
Excerpts:
Rajnath to take on 'anti-people' UPA

When did the party tell you that you were to take over as president?
When Advaniji made the formal declaration in Mumbai on December 31, 2005. That was when I found out.
Did they sound you on the possibility of that happening before?
I do not know what you call sounding before. I found out through media reports and from senior leaders that my name was under serious consideration.
Were you surprised?
No, because in my three-decade long political career, I have undertaken many responsibilities. Irrespective of the tasks given to me, I have done my best to discharge my duties. Even now, I will strive hard to broaden the party's base and take it to new heights as expected by my senior leaders. I hope I will be able to rise to the occasion and lead the party.
Are you comfortable stepping into the L K Advani shoes?
I feel comfortable. As far as Atal Bihari Vajpayeeji and L K Advaniji are concerned, they are still our leaders. Under their able guidance, I will strive to strengthen the party.
I believe in finding solutions: Rajnath
Is the Ram Mandir issue going to be a major poll plank for the BJP in the forthcoming assembly elections in the five states?
No, the Ram Mandir issue is not a political one. It is a national and cultural issue. We would like to see a grand Ram temple come up at the place of the birth of Lord Ram in Ayodhya. I would like to appeal to the Muslim community to come forward to resolve the contentious Ram Janambhumi issue.
When are you visiting Ayodhya?
Whenever I get an opportunity. I think it will happen next month, not before.
When are you going to announce your team?
I will do so after my name is formally ratified by the party on January 20 in New Delhi. At the moment, I am holding informal discussions with colleagues. I will also constitute my national executive at the same time.
Are you planning to visit Nagpur?
Sudarshanji has already called to congratulate me. I will meet him when he comes to Delhi. I will also meet other senior Rashtriya Swayamsevak Sangh leaders and have no hesitation doing so. I am also an RSS swayamsevak, why should I hesitate to meet the RSS chief?
Relations between the RSS and BJP have not been very cordial in the recent past…
The RSS is a socio-cultural organisation and the Bharatiya Janata Party is a political one. Where does the question of relations between the two arise? As I said earlier, I and many other leaders are RSS volunteers. The RSS has a large number of leaders or pracharaks who have dedicated their lives for the cause they believe in. When there is a crisis and we feel there is a need to consult them, we do it.
No regrets over Jinnah statement: Advani 
Do you feel the party has come out of the Jinnah episode phase?
This is an old thing and I consider the chapter closed. I would not like to comment any further.
What are the issues before you that need immediate attention?
There are many, but the issue of farmers is close to my heart. That is why they top my list of priorities. The biggest producer and consumer is the farmer. Everything is linked to his enhanced purchasing capacity. My personal opinion is that, when this happens, India will become a developed nation within five years.
How ethical is phone tapping?
It is difficult to say whether phone tapping in the present context is good or bad, as is being alleged by Samajwadi Party General Secretary Amar Singh. Phone tapping is bad and should not happen. But what is important is we should be told what those taped conversations hold. This must come to light.
Will Hindutva be an issue in the next assembly elections?
The honourable Supreme Court has defined that Hindutva is a way of life and the Congress party, which had been accusing us of being communal, should apologise and take back their words.
What about the Allahabad high court judgement on Aligarh Muslim University?
I am glad the court has vindicated our stand on this issue by declaring that Aligarh Muslim University cannot go for reservations. I also welcome the judgement of the court on a five percent reservation made by the Andhra Pradesh government for jobs for the minority community. This clearly indicates that the Congress party is communal and is trying to poison cultural harmony by sowing the seeds of communalism.
Are you going to give party tickets to persons with a criminal background?
There is no question of giving party tickets to people with a criminal background. I would like the Election Commission to call an all-party meet and codify what constitutes a person with a criminal background so they can be kept away from the political arena.

Complete Coverage: The BJP turns 25