'My election slogan will be, kaam bolta hai.'
'Those who have lined up outside the banks will also line up on voting day and vote against the BJP.'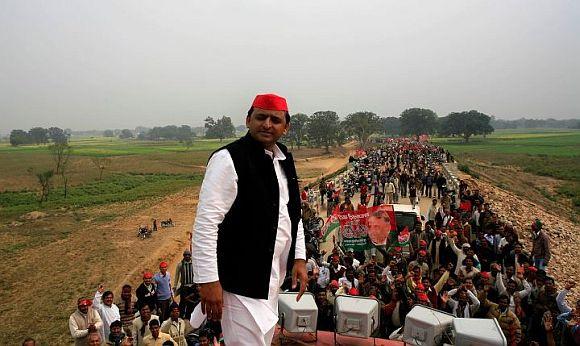 Uttar Pradesh Chief Minister Akhilesh Yadav speaks to Radhika Ramaseshan about the assembly elections, demonetisation and its aftermath in the state. (This interview was conducted before the current feuds that have torn the Yadav family asunder.)
Are you set to return as chief minister?
Yes, of course. I will be back with a full majority.
What is the source of your confidence? You are up against anti-incumbency sentiments.
My work.
Right from day one after winning the election (in 2012), I started preparing for the next election.
I was clear if I did not fulfil the promises I made to the people, what would I tell them five years hence?
Today, I feel emboldened enough to say, my election slogan will be, kaam bolta hai (my work speaks).'
But your laptop distribution scheme, the high point of your party's manifesto in the last election, was angled in favour of beneficiaries in Samajwadi Party strongholds.
I challenge you: There was not a single complaint over procurement or distribution.
In fact, the success of that scheme goaded me to announce the distribution of smartphones.
The next big freebie before the elections?
Maybe you think of it as a freebie, but there has been tremendous response to my proposal.
Did you think of distributing smartphones after demonetisation and the Centre's propagation of a digital economy -- the phone as wallet?
It started before demonetisation; in fact, more than 10 million people have already registered for the scheme.
See, I wanted to shatter the myth that sarkari schemes are notional, they exist only on paper, and nothing translates into reality.
At the end of the day, people should get relief.
If there's a medical emergency in a village, the patient's family should get an ambulance immediately after calling 108 or 102 and not come running to my office.
If a cow is ill, the doctor should reach the animal; the villager should not be forced to carry the animal to a vet.
Smartphones will enhance connectivity.
Let's come back to demonetisation. Many people I have met in Lucknow welcome it for its potential to wipe out corruption.
Achcha? (really?) This BJP (Bharatiya Janata Party) government at the Centre, what can I say?
First, it did a surgical strike across the border in Pakistan. That obviously did not fetch the expected political dividends.
Then came the surgical strike against black money. That's how it was initially projected -- as a way to weed out black money, counterfeit currency, terror funds.
But did you see how Narendra Modi's confidence waned after his first aggressive speech in Japan?
People are angry. So now the government talks about a cashless economy.
Where is the preparation? Are people ready for net banking? I am certainly not.
I am surprised, because your laptop drive across Uttar Pradesh's villages should have augmented Internet connectivity by now.
Certainly young people, even in the rural areas, are comfortable with the mobile, the Internet....
I have to admit that Internet connectivity is uneven.
Had I even an inkling about demonetisation, my government could have inserted the relevant app on laptops, trained people, who would have taught others how to do net banking, use Paytm and so on.
This is not to say that I am against technology. Not at all.
Technology can eliminate corruption, facilitate governance with the right software; but not in the way the BJP government has gone about it.
What does the government think: Money will fall from the sky?
Demonetisation is a bad decision and the government is looking for ways to save itself from a bad decision.
Your state, like others, has seen protests over demonetisation. Those queuing up outside banks were lathi-charged after they turned unruly.
Are you worried that law and order could go out of hand if the cash crunch persists?
The Centre is sharing no information with us.
I have been asking again and again that 'Please tell me how much money there is in which bank, so that we can help people procure cash?' I am pleading with the Centre to send more money to the district banks.
But it seems the Centre is trying to offload its troubles on my head.
There are law and order issues. I have a list of all the dharnas that were held.
The rulers in Delhi have no idea of what's happening on the ground.
Farmers have not been able to sow the next crop, development work has stopped, the Kanpur tanneries have closed and workers are unemployed.
Do you fear you will have to answer for the aftermath of demonetisation in the polls?
No, I don't have to.
In a democracy, one who harasses the people will reap the consequences.
Those who have lined up outside the banks, hoping to get some money, will also line up on voting day and vote against the BJP. I am confident of that.
Will demonetisation dominate your election discourse?
Yes, but it will be a part of my campaign, not the whole of it.
To me, my development work is paramount.
In the end, aren't the Uttar Pradesh elections about getting the caste arithmetic right -- selecting candidates who fit into a constituency's caste equation?
Yes, of course.
Social equations dominate elections in every democracy.
You know what happened in the United States -- the Whites versus the minorities.
We do not always give tickets on a caste basis. I do not want to, because this factor will detract from my emphasis on development, which I see as caste- and religion-neutral.
Ambulances, hospitals, schools, roads and mandis (marketplaces) are meant for everyone.
The feud in your family is out in the open.
I believe every member of my family wants the SP to return.
... With Akhilesh Yadav as the CM?
I am the CM. Maan na maan, main tera mehmaan (like it or not, I am your guest).