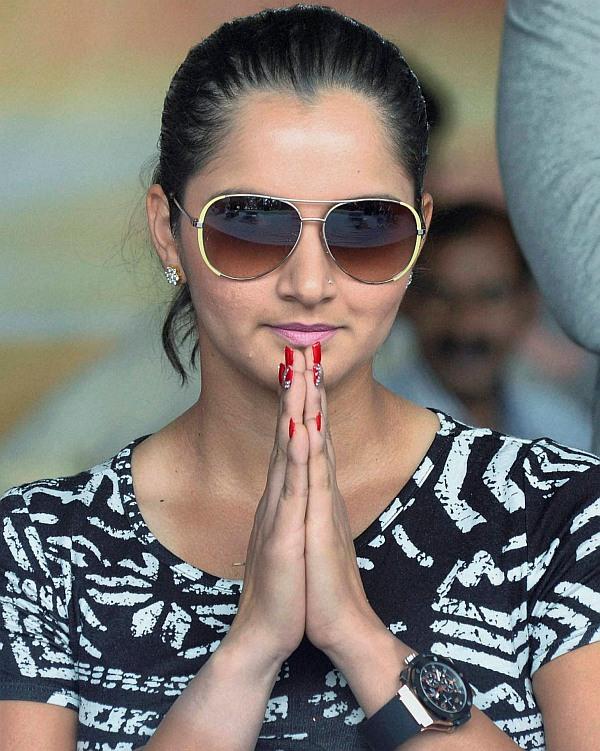 The reality is that even successful Muslims are made to suffer because of their faith, and the opposition to Sania Mirza is part of the same story of discrimination, says Kashif-ul-Huda.
It all started with a simple tweet on July 21. Sania Mirza, excited about her appointment as brand ambassador of the newly-formed state of Telangana, wanted to share the good news with her 1.89 million Twitter followers. But as there was no official announcement yet, all she could say was that a big and exciting news was coming out tomorrow.
The speculation started right away, so five minutes later she followed it up with this tweet: 'Find it amazing that when a woman says 'sharing a good news', how many ppl just assume that it's bout having a kid!! Nobody is pregnant.. relax.'
But Sania Mirza is not just a woman, so her discrimination is not confined to her gender. She is a Muslim woman, and that too married to a Pakistani. The announcement the next day, that she had been appointed brand ambassador for Telangana, was bound to bring her more trouble even though no one is more qualified than her to be in that position.
When she was still playing singles, Sania was the highest ranking Indian tennis player among both genders. Even today, she is the highest ranked Indian doubles player (#5 WTA ranking), Leander Paes is ranked at 13 and Rohan Bopanna is at 20 on the ATP doubles ranking. Not just Indian women, even Indian men do not come close to her achievements on the tennis court. There cannot be a better person to put Telangana on the world map.
But it was never about her qualification, or even her marriage. Her marrying a Pakistani is just icing on the cake for those opposing her appointment, the main reason for opposing her is nothing but communalism where everyone is reduced to just their religious identity.
There is no denying the fact that Islamophobia has grown at an alarming rate in India. With ease of access to byte-size world news, all in-depth reporting has got reduced to the headline that gets tweeted and Facebook likes and shares on images that reinforce stereotypes.
The Indian media has also taken a lead from its US counterpart and its reporting after 9/11 where any bad news about Muslims gets exaggerated and extended coverage. This was bound to have its repercussions; reports of discrimination against Muslims have grown at the same rate.
Discrimination against Muslims in education, employment, housing, and government services has become a routine affair. Discrimination is an important factor behind why Muslims lag behind in socio-economic indicators.
For example, if religion-based discrimination is removed from the 1950 Presidential Order, then Muslim Dalits can avail of the same benefits of reservations that Hindu, Sikh, and Buddhist Dalits get. This unconstitutional order discriminates against Muslims and Christians and 64 years later, while Hindu Dalits have benefited from reservations in education and employment, Muslims as a community lag behind the Dalits.
This discrimination has become so institutionalised that it affects Muslims from the lowest rung of the economic ladder as well as Muslim celebrities with a huge fan following. Most of this discrimination goes unspoken and unreported barring a few news items like Muslim celebrities not getting housing or that they are being opposed or criticised more harshly for their statements and their actions more minutely scrutinised.
Start any discussion about discrimination against Muslims in India and someone is bound to rattle off names of successful Muslims from different professions -- A P J Abdul Kalam, Azim Premji, the Khans of Bollywood, Sania Mirza, etc. As if the success of a few Muslims is enough to show that there is no religion-based discrimination in India.
The reality is that even successful Muslims are made to suffer because of their faith. The opposition to Sania Mirza is part of the same story of discrimination.
'I am an Indian who will remain an Indian until the end of my life.'
'I strongly condemn any attempts by any person, whosoever, to brand me an outsider.'
These two tweets by Sania Mirza show that she represents a change in the Muslim youth where there is no confusion about their national identity. Hundreds of years ago Mirza's ancestors may have come from foreign lands (Mirza suggests Uzbek or Turkish origin) and made India their home; now their descendant travels the world for her conquests on the tennis court and shuttles between Dubai and Hyderabad, but there is no doubt in her mind that it is India that is her home.
Photograph: PTI Photo
Kashif-ul-Huda is the editor of the Web site TwoCircles.net and tweets at @kaaashif.