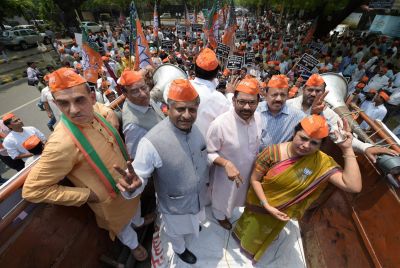 'The over-reaction by the BJP to District Magistrate Pranjal Yadav's decision will prove a double-edged sword.'
'On May 16, if the BJP gets a handsome number of seats and if Modi wins from Varanasi and Vadodara, his opponents can repeat Modi's scathing remarks against the Election Commission, that it was not 'impartial'.'
Sheela Bhatt/Rediff.com on the reasons for the BJP's reaction against the Election Commission.
The unprecedented has happened. The establishment in New Delhi has got a bitter taste of Narendra Modi.
'With full responsibility, I'm accusing India's Election Commission of discrimination,' Modi, the Bharatiya Janata Party's prime ministerial candidate, told supporters at a rally in Azamgarh, Uttar Pradesh.
The Election Commission of India, a Constitutional authority, confronts opposition on the streets of Varanasi and in New Delhi.
Fans of Modi, his party, and Modi himself are taking head on the Election Commission, a rare institution that is respected across party lines.
Modi has taken up the battle for short-term gains, and that does not surprise anyone.
The Congress, Mayawati, Sitaram Yechuri, Sharad Yadav et al criticised Modi for the avoidable confrontation, and have asked if Modi's tirade against the Election Commission is a sign of his desperation or frustration.
In his speech on Thursday, Modi said, 'I want to tell the Election Commission that I had warned you on April 24 that you are not discharging your responsibility well. In UP, Bihar and West Bengal, there were reports of malpractices during the last three phases of polling.'
Holding a rally for BJP candidate Ramakant Yadav, who is contesting against Samajwadi Party President Mulayam Singh Yadav in Azamgarh, Modi said, 'I accuse the Election Commission of not being impartial.'
Modi's roar against the Election Commission is for many reasons.
Ramakant Yadav has proved to be a serious challenge to Mulayam Singh. Mayawati may call Ramakant Yadav the 'biggest terrorist', but he has changed the ground realities this time.
Dr Ahmed Naeem, a professor living in Azamgarh says, "We find Mulayamji on a weak wicket. There seems to be a vertical divide in the OBC votes favouring the BJP."
There is a tantalising opportunity for the BJP to push the election in Azamgarh in its favour. BSP candidate Shah Alam is also proving strong in attracting Muslim votes in spite of Mulayam's presence. The BJP and BSP are both giving Mulayam Singh sleepless nights.
Such a tentative assessment is making Modi aggressive.
In Varanasi, the issue on the surface is one small area in the heart of the city called Beniyabaug, around which Muslim weavers live. In 1991, during the Ram Janambhoomi movement, fierce riots had broken out here after the authorities permitted BJP candidate Shirish Chandra Dixit to hold a rally.
To deny permission to Modi for a rally here was unconvincing, and the BJP found the political opportunity to fight back.
The election in Varanasi is not a simple contest, it is being fought as if it is a war. The Samajwadi Party, the Bahujan Samaj Party, the Congress, the Aam Aadmi Party and other small parties watch with awe Modi's forward movement in the Purvanchal region, which is the BJP's weakest area in the UP battlefield.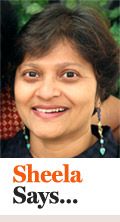 It is not one's case that one can conclusively prove that the BJP is ahead of all others in Purvanchal, but the Congress, SP and BSP are finding that the Other Backward Classes are divided here.
The political situation is volatile and social equations are tense. Also, it seems that youth power is siding with the BJP. And the BJP's core voters are loud and dominate media time.
It is more likely that anti-BJP parties, particularly the SP, are trying to help their candidates by deploying their favourite officers and more security forces to help their political cause.
However, there is no evidence of the SP's hand in the Varanasi decision yet, but in UP all the ruling parties have been notorious in using the state machinery at election time. There is no reason for not doing so this time. Rather, there are more compulsions for the misuse of governmental power by the SP.
Pranjal Yadav, the electoral officer and district magistrate of the area, is a popular officer who has put in some efforts to improve the civic facilities of Varanasi. But, in a season of high voltage politics, how come he did not anticipate the BJP's ire against his decision?
The BJP, which is always alert to grab such opportunities, has done so by turning Pranjal Yadav's decision into a maut ka saudagar moment. In the assembly election of 2007 in Gujarat, in one of her speeches, Sonia Gandhi had called Modi 'maut ka saudagar and it turned into Modi's election plank.
Pranjal Yadav's strange alibi of 'security reasons' to deny permission for Modi's public rally is questionable because Modi has already held rallies in Jammu, in Maoist areas and even in Patna when live bombs were found. There is no doubt that Modi attracts risks due to his politics and due to the 2002 riots, but there are no signs of any dramatic change in the risk perception for him.
The district magistrate is not coming clean mainly because his office delayed conveying its decision.
He could have been more transparent in giving reasons for the rejection of permission.
Unfortunately, a junior officer's questionable decision has been turned into dirty politics by the BJP. By criticising the Election Commission, Modi is weakening the system and the atmosphere in which such a mammoth exercise is being undertaken.
There were many other ways Pranjal Yadav's seemingly partisan decision could have been handled. Even if the DM was working under the SP's pressure -- and there is no evidence to suggest this -- it could have been challenged seriously without declaring a war against the Election Commission.
At the same time, it has to be added that anti-BJP parties have also played some mischief. It seems that Modi was all set to attract Muslim voters by making a historic speech from Beniyabaug. He has already addressed Muslims in a special manner in his interview with Shahid Siddiqui in Nai Duniya.
According to information available with Rediff.com, there are other pressing issues because of which the BJP grabbed the opportunity that fell into its lap.
First of all, the Election Commission has shown unusual speed in filing an FIR against Modi for alleged violations of rules when he took a 'selfie' on April 30, polling day in Ahmedabad. The speed shown by the Election Commission is not normal and Modi has taken strong objection to it.
In fact, the BJP is astounded by the Election Commission's action against its prime ministerial candidate. Modi even spoke about it in many speeches and interviews to the media, that he will never ever forget April 30, because it was the first time ever that an FIR was filed against him.
The BJP somewhat justifiably argues that the Election Commission is going slow in investigating the flouting of rules by other political leaders and expects the Election Commission to go slow against Rahul Gandhi.
In Amethi on Wednesday, Rahul was found inside a polling booth and was photographed along with the EVM. The BJP and AAP say the photograph shows that it is an open and shut case of violation of Election Commission rules.
Second, according to reliable sources, the BJP believes that in the election held on April 24 and April 30, the Samajwadi Party was helped by UP cadre government staff in 'booth-capturing' and other malpractices on polling day. This is a complaint the Election Commission gets in every election in UP, but this time the BJP's stakes are high and so it is making an issue out of it.
The BJP and other parties have given more than three dozen complaints to the Election Commission. Sources say that two constituencies on April 24 and four constituencies on April 30 witnessed the SP's muscle power inside the booths. BJP candidates may lose this election from these six seats, and that pinches badly.
Booth-capturing in the interiors of UP is uppermost on the BJP's mind. By taking on the Election Commission and by challenging Pranjal Yadav in Varanasi, the BJP is sending a stern message to electoral officers of other constituencies that the party will not lie low if, in the remaining 41 seats which go to the polls on May 12, any kind of bias is shown to the ruling parties.
On May 12, 18 seats in UP, six seats in Bihar and 17 seats in West Bengal will go to the polls. The BJP is in the numbers game like all parties are. UP's 18 seats are in the Purvanchal region where the BJP fared badly in 2009. Whatever fight it puts up now, it will be an advantage.
In all the 41 seats, the contest is three- or four-pronged, and any bias by the electoral officer can tilt the balance.
The BJP's road show in Varanasi on Thursday is due to the precarious political condition in these seats. By raising the pitch, the party monopolised television time for free which has proven a bonus for it.
Chief Election Commissioner V S Sampath is non-partisan and a distinguished officer with an impeccable record. He enjoys high credibility, but is not able to create a 'scare' as T N Seshan and many of his predecessors were able to.
In the circumstance, this election is witnessing a vulgar use of money power much more than usual. Also, there is high pressure on election management teams in managing booths in Bihar, UP and West Bengal.
By and large, as Sampath said at Thursday's press conference, the election is being conducted boldly and fairly.
The over-reaction by the BJP will prove a double-edged sword. It is true that no candidate should be denied permission unnecessarily in his own constituency without convincing reasons. The BJP went to town in opposing the DM when they got an excuse, but when Modi and Jaitley question the Election Commission they also end up questioning their own elections.
In case, on May 16, the BJP gets a handsome number of seats and if Modi wins from Varanasi and Vadodara, his opponents can repeat Modi's scathing remarks against the Election Commission, that it was not 'impartial'.
While becoming aggressive on the issue the BJP ended up looking defensive, because the mild-mannered Sampath snubbed them by declaring full support to Varanasi's junior officer Pranjal Yadav.
Image: from right, BJP leaders Harsh Vardhan, Mukhtar Abbas Naqvi, M Venkaiah Naidu, Ravi Shankar Prasad, Vijay Kumar Malhotra, Satya Pal Singh and Meenakshi Lekhi lead a protest against the Election Commission in New Delhi on Thursday, May 8. Photograph: Manvender Vashist/PTI Photo.
Has the Election Commission conducted the election fairly and boldly? Vote below!