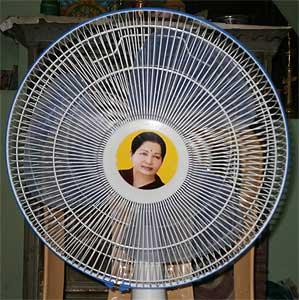 Even given politicians' penchant for self-promotion, Tamil Nadu Chief Minister Jayalalithaa takes it to another level altogether, says A Ganesh Nadar. Nothing wrong with it, provided it's not done at the tax-payer's expense
During the previous DMK regime in Tamil Nadu, they gave free TV sets to every household. When you switched it on, the first image was of a laughing Karunanidhi, the then chief minister. It's probably an apocryphal story, but it was said that this had one great benefit: the kids did not switch on the TV!
You also saw his mug shot on packets of dal (lentils) sold at subsidised rates and other essential commodities.
Strung all across the state were huge banners of him, his sons, his daughters, his grandchildren… as if to ensure the dynastic succession.
Now it's the turn of the current Chief Minister J Jayalalitha to ensure that no one forgets what she looks like. Mixies, grinders and other white goods advertised on banners across the state bear Amma's image as does the packaging of the products.
Roads, some just 100 metres long, are festooned with Amma's images, and on the roofs of 1.55 lakh houses the government has built, stands the squat, sari-clad figure of the lady boss.
It's not just Tamil Nadu's politicians who are in love with their own faces. In Mumbai, driving through the Nagpada area, I saw this huge message on a building wall: 'The residents of this society thank our local MLA Shri Xyz for renovating this building with his MLA fund.'
Until the residents of Bandra, a Mumbai suburb, protested, every little traffic island with even a stick of greenery bore a plaque thanking the local MP, MLA and corporator for their munificent contribution to greening the suburb (this after the suburb has been thoroughly degraded by a rash of ugly concrete).
Tamil Nadu's bus-stops, it seems, have been built entirely from MLA or MP funds, with the name of the concerned legislator emblazoned across them.
So little do politicians actually do for citizens, that they feel they must broadcast every trivial act as if it is the last word in charity and philanthropy.
The Golden Quadrilateral -- the road network that links the major metros -- was the brainchild of former Prime Minister Atal Bihari Vajpayee. Yet today, if you travel across the country on any national highway, at regular intervals you will see a huge hoarding of the National Highway Authority of India flanked by hoardings of current Prime Minster Manmohan Singh and chairperson of the UPA, Sonia Gandhi.
The two leaders are smiling broadly, something one never sees them do in TV grabs or print photographs. Manmohan Singh always looks sombre and Soniaji smiles only when she is with her children. So the beaming pics on the NHAI hoardings could well be photo-shopped.
The politician's love affair with him/herself is not just an act of hubris. It is costing the nation -- specifically you and I, the taxpayers -- money. Not one of them is putting up the gardens, hoardings, or bus-stops at their own expense. The MLA/MP funds don't come from the air but from our pockets.
How is it then that an MP gets a stone inscription saying he built a room in a school? Public money built the room.
Why do the National Highways have photos of the dynamic duo all over? They don't even pay toll for using the highway. Or road tax.
If images must be put up, they should be of ordinary tax-payers.
I do not subscribe to this absolute rubbish propagated by elite capitalists that only two per cent of Indians pay tax and the rest are freeloaders. Every Indian is a tax-payer.
Every individual who buys a bar of soap, a tube of toothpaste, a litre of oil, pays tax. Sales tax and now VAT are charged on everything you buy.
The government makes money on sick people too. All medicines are taxed. If you get admitted in a hospital you pay a tax on that too. The great Palaniappan Chidambaram has put a service tax on hospitals. To tax the sick, you have to have a sick mind.
India's is the only government in the world that taxes productivity, ie, what you produce. Doesn't matter if what you produce is not sold yet, or has not made any profit yet.
All you need to do is produce and you get slapped with excise duty. If the government is trying to prevent industries from producing more, it is doing a good job of it.
Government websites should carry lists of the highest service tax payer, the highest excise duty payer, the highest custom's duty payer, the highest income tax payer, the highest toll payer, the highest cess payer.
Then put up these people's images on all government works. Imagine a bus-stop that has an image of the highest tax-payer in that village.
Imagine a building that has the image of the highest excise duty payer who manufactures cement.
When you spend public money, give the public due credit.
A PIL to enforce this sounds like a good idea. The government on its own will never implement it because what will it boast of then?