Home > India > News > First Look


Discuss |
Email |
Print | Get latest news on your desktop


'I wanted to be a cop, now I clean gutters'

A Ganesh Nadar | January 29, 2009

Slumdog Millionaire [Images] has received tremendous international recognition and highlighted Mumbai's [Images] underbelly. While some hail it as a grand endorsement for the city, others think of it as a sorry stereotype.

Rediff.com correspondents met residents of the city's slums to find out what life really means for them.
---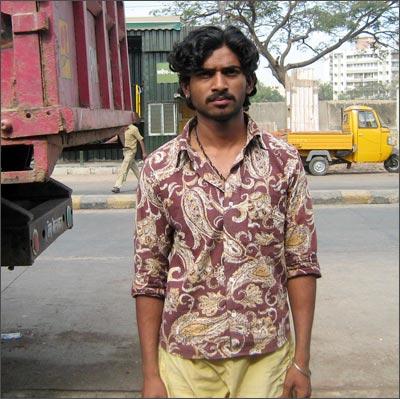 Mahesh Mohan Thorat, Nehru Nagar slum, Kurla, Mumbai
Mahesh lives on the border of Nehru Nagar, the slum in Kurla that forms the backdrop of Danny Boyle's [Images] film, Slumdog Millionaire.
He cleans gutters in the colonies nearby and gets paid a small amount. However, it is not the money but the possibility of finding gold ornaments while cleaning the city's filth, that drives him into doing this unpleasant task day after day.
"Twice, I have found rings weighing 1 gram and lots of nose rings that weigh even less," he says.
Mahesh has studied up to Class III. The family had to move out of their tenement because there was no money to pay a deposit for the 11-month lease. They lived on the streets till there was some money to move back into the slums.

The boy resumed school but dropped out in Class VIII along with some other slum children. Cigarettes and tobacco seemed far more inviting than school.

"When the teachers in school used to ask us about our ambitions, I always said I wanted to be a policeman. That would have been possible if I had completed Class XII. Now it's too late. I am 22 and married and have a month-old baby," he says with palpable regret.

After dropping out of school, Mahesh did odd jobs before taking up the job of cleaning gutters. Now this is his chosen profession, he says. He takes Sunday off and spends it with wife, Meenakshi and his child.
"I don't stay with my parents, I have my own home," he says proudly.


Mahesh says his father used to be a security guard. Earlier he was in the Home Guard but now he is a broken man.
"Can you see that colony behind us?" he says. "There were 265 hutments here. My father was the broker who got the entire slum cleared for this colony. The chairman of the society and the builder promised him a house instead of money for his efforts. They gave houses to all the 265 settlers but did not give him a house or any money."

The family feels they were deprived of their due because they were poor.
But the survivor in Mahesh keeps him toiling in the murky sludge with the hope for his pot of gold someday. "I have found gold rings and many nose rings. But the hope of finding something big keeps me going, into that filth everyday".

Mahesh Mohan Thorat
C/o Jai Bhavani Mandir
Vathsalathai
Naik Nagar
Opposite S T depot
Gautam Nagar
Chembur, Mumbai 400071
Photograph: A Ganesh [Images] Nadar
Earlier in the series: