Home > India > News > First Look


Discuss |
Email |
Print | Get latest news on your desktop


'I'm 15 and have seen all the ugly faces of poverty'

January 20, 2009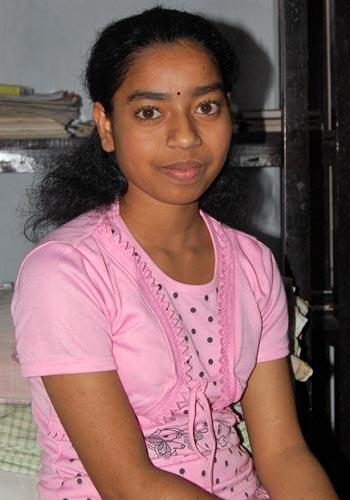 Slumdog Millionaire has received tremendous international recognition and highlighted Mumbai's [Images] underbelly. While some hail it as a grand endorsement for the city, others think of it as a sorry stereotype.

rediff.com correspondents met children in the slums to find out what life really means for them.
---
Monica Halder, Dhakuria, Kolkata
"I could not sleep for nights after I saw a man being thrown out of a running local train. It was way back in 2004."

Monica, then 10, was chatting with neighbours at their slum near the Dhakuria railway station when she witnessed along with many others, a severely injured man being hurled out of a train compartment.

"A living being got transformed into a mangled mass of flesh and bones -- the sight was unbearable. The incident had me dumbfounded, my feet, it seemed, had grown roots," she says.

Violence and morbidity of this kind are an inseparable part of 200-odd families that reside in the slums along the railway tracks connecting Kolkata with its suburbs of a wide area of south Kolkata.

"One morning many years back, three of us, my elder sister Meenakshi and our parents left our ancestral home at a village in Diamond Harbour (located at the southern tip of West Bengal) in search of a better life."
"On reaching Kolkata, we started sharing a 100-square foot room in the Dhakuria slum that my widowed grandmother had taken on rent."

"It was agreed that my parents would share the monthly rent of Rs 500 as soon as they got jobs in lieu of our boarding and lodging."

"Soon after, Baba got himself a masonry job while Ma got employed as a part-time maid servant. Somewhat relieved, they got Didi and me admitted to a government school. Both of us had studied till Class III in the village school."

Was life taking a better turn?

"We hoped and prayed so." But destiny had something else in store.

"Soon Ma met with an accident on her way to work. She injured her right hand so badly that she had to quit her job."

"The family's income halved overnight and it became impossible to afford both our school fees with a meager monthly income of Rs 600."

"Didi, without even a second thought, gave up her studies and took up a maidservant's job to help me continue with my studies."

"I can never forget her sacrifice. During my spare time, I do odd jobs like cleaning a pond, helping my father in his masonry job. Whatever I earn from that I save. I plan to hand over my entire savings to Didi some day. We hope to marry her off to the best of the grooms."

"Though I am only 15 I have seen all the ugly faces of poverty. As I cover my nose while using the common toilet of our slum every morning, I also dare to dream of tasting success some day. I want to be a doctor. Does it sound ludicrous?"

"I want to be of some help to people of this slum who have to slog like dogs to earn two square meals a day. I hate to stay in this dingy place, I hate to see Ma cry -- pain in her injured arm keeps her up through nights."

"I hope to see a better world some day when poverty won't darken my brightest dreams."
Readers who wish to help Monica's family can write at: Meenakshi Halder
C/o Amritanshu Datta
63D Selimpur Lane, Dhakuria
Kolkata 700031
Or
Monica Halder, Account Number: 11653, Dhakuria Cooperative Bank Limited, Kolkata-31
Text: Indrani Roy Mitra; Photograph: Dipak Chakraborty
Earlier in the series: He gets paid only 10 paise per shoe