Home > India > News > First Look


Discuss |
Email |
Print | Get latest news on your desktop


The car-washer who wants to play for India

Prasanna D Zore | January 22, 2009



Slumdog Millionaire [Images] received tremendous international recognition and highlighted Mumbai's [Images] underbelly. While some hail it as a grand endorsement for the city, others think of it as a sorry stereotype.

rediff.com correspondents met children in the slums to find out what life really means for them.

---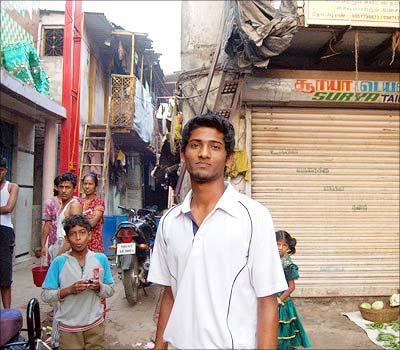 John Shetty, Deepak Chawl, Malad, Mumbai
John Shetty is a teenager brimming with confidence. He is 17, passionate about cricket and aspires to make it to the Indian cricket team one day.
"Yes, one day I will surely play for India," he says confidently about the unofficial national game of the country.
"I'm an all-rounder (he bats and bowls right-handed), just like Yuvraj Singh [Images]," he smiles. In addition to flamboyant left-hander Yuvraj, John also loves to watch pace sensation Ishant Sharma [Images] in action.
His passion for cricket motivates John to wake up at 5 every morning. By 6 he completes his morning chores -- the common toilet is shared with scores of other families in his neighbourhood, where he has to queue up for at least 15 minutes each morning. He then leaves home to wash cars at the residential buildings nearby, for which he earns Rs 1,000 every month.
"Out of this, I pay Rs 500 every month to play cricket at Azad Maidan [a prominent Mumbai common ground where several clubs play cricket]," he says. "The rest is deposited in my mother's savings bank account so that I will have enough money to pay for my education later."
John, who lives in a 12 by 12 tenement room in a slum located close to the InOrbit Mall in Malad, lost his father when he was only nine. John says his father died after being run over by a train. Ever since, he has been fending for himself.
Though his mother was given a job in place of his father in the Brihanmumbai Municipal Corporation, where she works in the conservancy department (staff that sweep roads and clean gutters), John wants to be a self-made man one day.
"I started washing vehicles after my Class X exams, two years back. I have taken a break from studying so that I can earn enough to complete my studies at least till Class XII," says John, who doesn't want to bother his mother with the cost of his education.
His elder brother did not study beyond Class VIII and is currently working with the BMC's conservancy department too. "My sister doesn't go to school. She is not intelligent enough."
Halfway through the conversation, John says he has to rush. "I have a match today at Azad Maidan and I don't want to be late."
Though he hasn't heard of Slumdog Millionaire, the film about a Mumbai slum that has won four Golden Globe [Images] awards, John is an avid movie-goer. "I make it a point to see any film that stars Hrithik Roshan [Images]. I also love to watch Tamil superstar Vijay," he adds quickly.
A native of Viluppuram district in Tamil Nadu, the last two generations of John's family have spent their lives in Mumbai trying to make a living. They have been sending some money back home for family who cannot make it to the city of their dreams.
Despite his present struggle, John believes it is just a matter of time before a great future awaits him in the cricketing stadiums of the world.
Readers who wish to help John can contact:
John Shetty
Room No. 135
Deepak Chawl
Motapada
Behind Kamladevi Mittal College
Malad West, Mumbai - 400064
Photograph: Prasanna D Zore
Earlier in the series:
Born on the road, she aims for Miss India
'I'm 15 and have seen all the ugly faces of poverty'
He gets paid 10 paise per shoe