Home > India > News > First Look


Discuss |
Email |
Print | Get latest news on your desktop


Born on the road, she aims for Miss India

Insiyah Vahanvaty | January 21, 2009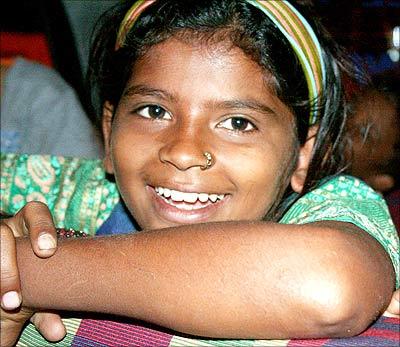 Slumdog Millionaire has received tremendous international recognition and highlighted Mumbai's [Images] underbelly. While some hail it as a grand endorsement for the city, others think of it as a sorry stereotype.

rediff.com correspondents met children in the slums to find out what life really means for them.
---
Kokila Vaghela, pavement dweller, Mumbai
Dragging along a toy car on a red ribbon, while the other hand tugs at the sleeve of her younger sister, twelve-year-old Kokila is humming a tune and sauntering along the slums of Khar Danda, north-west Mumbai.
She looks enquiringly and spits out the piece of grass she is chewing on, so that she can speak. Dressed in a cobalt blue salwaar kameez, the pretty child looks around her with big, sparkling, curious eyes. Eyes that look at the squalor around her, but doesn't feel a part of it. That holds hope, faith and belief in herself and the world.
Born on the pavement of Carter Road, a plush enclave that borders a fisherman's colony, Kokila's father sells garlic for a living. Her mother works at a municipality school.
Despite their poverty, Kokila's mother makes sure that all six of her children go to school in the hope that their lives will someday be better. The family lives on the pavement of Carter Road. While they have the most coveted of prime locations, and a panoramic sea view, they don't have a roof... or walls.
Dropping her gaze to her feet shyly, Kokila says, "Main Miss India banna chahti hoon. Miss India picture mein aati hain, na, is liye. (I want to become Miss India because she acts in the movies.)"
When she wins the crown, she wants to star opposite her favourite actor, Hrithik Roshan [Images].
And where one finds such ambitions, the dreams of riches and luxuries are never far behind. When she grows up and makes a lot of money, (which she has no doubt she will), Kokila wants to buy clothes and jewellery, but more importantly, she wants a building, some utensils and a car.
She justifies these choices by saying: "Building, kyonki hum log ka ghar nahin hain, is liye. Aur bartan nahin hain zyaada, is liye. Aur car chahiye, blue waali. (I want a building because we don't have a house. I want utensils because we don't have many. And I want a car, a blue one.)"
Her six-year-old sister and four-year-old brother cling to her legs and giggle when Kokila tells us how rich she will be someday. Older children mill around, and Kokila's mother says her daughter stays back after school hours to wash dishes, and earns Rs 300 every month. Only 12, Kokila is an earning member of this household.
She doesn't want to stop studying for a long time yet, saying, "Main bahut padna chahti hoon, achha lagta hai. Aage badhkar kuchh banna chahti hoon. (I want to study a lot; I like it. I want to progress and become successful.)"
While this girl is still a child at heart, she is not satisfied with the idea of good food, clean clothes, a roof over a head... Hidden away behind the stench and squalor of desperate poverty, she dreams of claiming her place in the world, of reaching for the stars, and of bringing them home for all to see!
Kokila Vaghela
C/o Kanchan Vaghela
Danda Shopping Centre
General Chemist and Druggist
3, Dev-Ashish Building
C D Marg
Danda, Khar West, Mumbai 400052
Text: Insiyah Vahanvaty. Photograph: Sanjay Sawant
Earlier in the series: