Home > India > News > First Look


Image: Gujjar chief, testing the caste waters!

May 29, 2008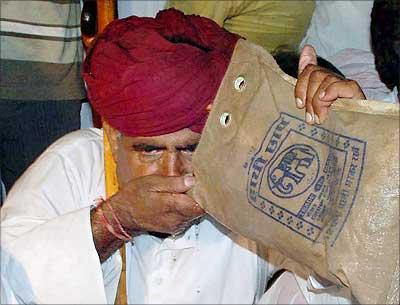 Retired Colonel Kirrori Singh Bainsla is a charming rustic. Suave with the media, he wields a rare command over his people.
Testimony to his leadership qualities lies in the thousands of Gujjars who have rallied around him as he sits in a makeshift tent erected in the middle of nowhere on the Delhi-Mumbai rail line. A shrewd tactician, he was a government school teacher before he joined the army as a sepoy and rose to the rank of colonel -- he has marshalled his troops to the optimum.
However, Bainsla is fishing in the troubled caste waters of Rajasthan. The ripples have reached as far as the National Capital. Where and when does it end? No one has a clue. Yet, in the Gujjar territory, he is the king.  
Here in this PTI image, he is seen quenching his thirst during an agitation at Bayana in Rajasthan. With the Army begining to cut off the food supply, the retired Colonel and his Army will have to soon survive on water!
Read our interview with Kirrori Singh Bainsla.