Home > India > News > First Look


Masks replace banners in Karnataka poll campaign

Vicky Nanjappa in Bengaluru | May 04, 2008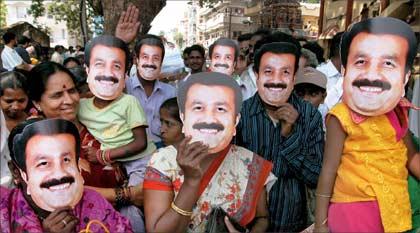 In a constituency which has a population of a lakh, it is difficult for a leader to reach every home. With the Election Commission of India coming down hard on political parties for using banners, buntings and flags, the only option left to the leaders is to undertake a door to door campaign.
With leaders finding it impossible to reach every home, they have come out with an innovative way of getting familiar with the voters. Party workers sport masks of their leaders and undertake a door to door campaign. Not only will they be conveying the message of the party, but the voter also gets to see what the leader looks like. This concept was first started in Gujarat, but it seems to be making more sense in Karnataka as the ECI guidelines on banners and pamphlets are extremely strict and moreover, several leaders are fighting the battle in new constituencies following the delimitation process.
The supporters of H D Kumaraswamy, B S Yeddyurappa and Siddaramaiah are all sporting masks while campaigning. Suresh Siddappa, a supporter of Congress leader Siddaramaiah, who is contesting from Varuna, which is a new constituency for him, says, "It makes it easier. There are several voters who would like to see what their leader looks like and by sporting a mask, we are able to achieve that. It is not possible for our leader to go to every house and hence the mask really helps". Over a lakh masks have been sold in Karnataka.
G Parthasarathy, a resident of Bangalore who has been making masks for politicians, says that he has received several orders and the demand is only increasing. He says that each mask is sold at Rs 10 and he has so far supplied over 10,000 masks. He also adds that several persons who were into making banners have now started making masks. These persons incurred huge losses after the ECI clamp down on the use of banners and flags. Parthasarathy says all manufacturers together may have sold over 50,000 masks so far. "I am sure that the demand will go up as leaders start canvassing for the second and third phases respectively," he said.
Image: Congress workers wearing the face mask of a leader during an election campaign rally in Bangalore. Photograph: PTI Photo