Home > India > News > First Look


Man's need and greed in God's playground

Sumit Bhattacharya | June 25, 2008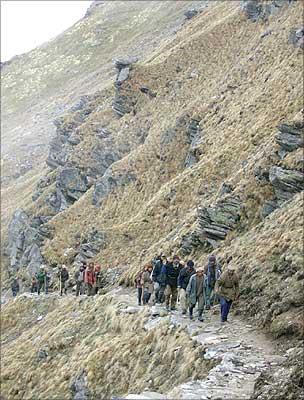 This is near Kailu Vinayak, at close to 14,000 feet above sea level, in Chamoli district of Uttarakhand, a state which prides itself as dev bhoomi, or the gods' playground. This is on the way to Roopkund, the lake at the foot of the Trishul ( 7,120 metres) massif.
There are no villages here; only trekkers and shepherds from habitations below venture up in the summer months. Here, where nature is at its stunning, unforgiving best, man's need and greed are playing out a bizarre game.
These men are on their way up to collect what is the equivalent of gold strewn about for them. They are going to look for what they call keeda jadi, which is basically a kind of caterpillar mummified by a fungal infection found at altitudes between 3,000 and 5,000 metres, which goes by the scientific name of cordyceps sinensis.
It is a prized ingredient in traditional Chinese medicine, and most reports say it sells at prices more expensive than gold. "Lakh rupiya milta hai ek kilo ka [ you get Rs 100,000 for a kg]," says our guide, with a grin. But where is it sold? The buyers come here, he replies.
Cordyceps sinensis -- which is said to have myriad uses including as an aphrodisiac -- is only found in the Tibetan Plateau and the Himalayas, though its scientific relatives have been known to be found in the ancient forests of New Zealand [Images].
All this might have made for scientific trivia, had it not been for the violence that has followed the keeda jadi up to stunning locales that will make even the most hardened cynic concede the divine hand.
The day after this photograph was clicked, scores were injured in clashes over keeda jadi collection between two villages called Kanol and Sutol. Tents were ripped -- the equivalent of slitting throats at these altitudes -- and three men went 'missing'.
This was just one clash, in one little part of the state. The keeda jadi phenomenon is happening across the Himalayas, especially in the Kumaon region and close to it, at the higher altitudes, as summer sets in and the snow melts, exposing the mummified caterpillars.
There have also been reports of poaching becoming rampant in the guise of keeda jadi collection, which is as yet unregulated.

Text and photograph: Sumit Bhattacharya