Home > News > First Look


WB Bird Flu: Culling operations begin

January 16, 2008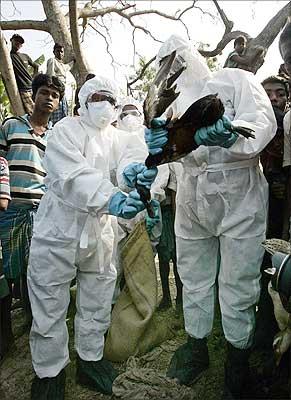 Altogether 55 teams of the West Bengal Animal Resources Development department fanned out to 105 villages under Rampurhat Blocks I and II in state's Birbhum district as culling of chicken affected with the deadly H5N1 virus began on Wednesday, official sources said.
The Sub-divisional Officer, Rampurhat, P K Mondal said the teams will go house to house and visit the private poultries and collect the affected birds.
The birds will then be killed, holes dug and the carcasses buried, the SDO said, adding holes will be dug at 10 spots.
Around 35,000 to 40,000 chickens have died in Birbhum district alone.
A report from Balurghat in South Dinajpur, the other district affected by bird flu, said culling operations were yet to begin.
The culling will take place at the state run poultry farm in the district.
The International border with Bangladesh has been sealed as a precautionary measure, official sources said.
Animal Resources Development Minister Anisur Rahaman had on Tuesday said that over 3.5 lakh birds in Birbhum and 26,000 in South Dinajpur district will be culled.
The steps were taken after a report from High Security Disease Laboratory, Bhopal and National Institute of Virology, Pune confirmed presence of the H5N1 virus.
The Health Ministry had on Tuesday dispatched a team from the National Institute of Communicable Diseases to the state. This is the first time that avian flu has broken out in West Bengal. 
Four lakh birds culled: Pawar
The Central government on Wednesday said about four lakh birds had been culled in the wake of a bird flu outbreak in some parts of West Bengal.
Agriculture and Food Minister Sharad Paward said nearby places had been alerted about the outbreak and preventive measures were being taken.
However, the minister said the situation was under control.

Image: Health workers kill ducks at Bamdevpur village, some 250 km north of Kolkata on 16 January 2008.
Reportage: PTI | Photograph: Getty Images